Main content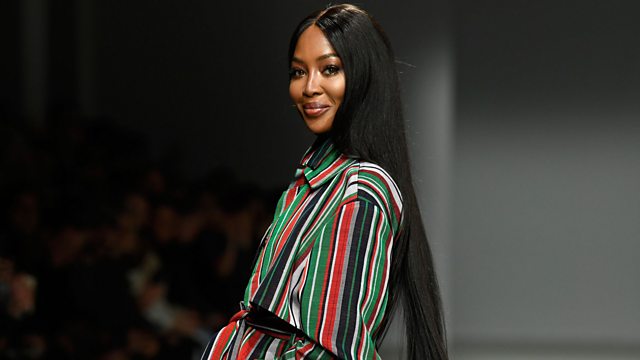 Naomi Campbell, US Elections, Women Farmers and a 1970's recipe book
Naomi Campbell, US Election Update, Women Farmers and the culinary delights found in a 1970's recipe book.
Naomi Campbell is an actress, an innovator, an icon, an activist, and a philanthropist who's been at the summit of the fashion industry for over three decades. When Pat McGrath signed her up to be the global face of her makeup brand she said "she's an inspiration to women, especially women of colour. She demonstrates that anything is possible". Jenni talks to her about the collaboration, her reaction to the death of George Floyd and how the fashion and beauty industry needs to play its part in bringing about change.
In just under five months' time US voters will go to the polls. President Donald Trump and his Vice President Mike Pence are set to face Joe Biden whoever he picks as his running mate. Biden has already said he will pick a woman – and in the wake of the Black Lives Matter protests, following the death of George Floyd, there is much speculation about the possible Black women he might pick. So how might this impact on the presidential election? And what will shape the key messages of Democrats and Republicans to women voters as the impact of the Covid 19 pandemic continues?
Pork in cyder, grilled grapefruit and cheese scones, fruit salad with gherkins …just some of the dishes Georgie Williams has cooked in the last year as she's worked her way through an old recipe book. She found it after buying a second hand sideboard – 365 recipes written in a 1968 diary which she'd like to reunite with the person who wrote it. Georgie shares pictures and videos of these culinary treats on her @forgottendelights Instagram account.
The Welsh Government's Farming Connect scheme is running online events all this week aimed at giving women the confidence and knowledge they need to help develop both their personal and business skills. Research shows that women's development in agriculture is vital to increasing the size of the skilled workforce, as well as unlocking talent to help drive the industry forward. So what practical steps can be taken to start breaking down the barriers faced by women and to inspire them to reach their full potential? Joyce Campbell is a hill farmer on 5,500 acres in the north coast of Sutherland, Scotland and was co-chair of the Women in Agriculture Taskforce for Scotland. Anna Truesdale is a dairy farmer in Northern Ireland and Telerie Fielden is a shepherdess managing Llyndy Isaf, a 600 acre upland hill farm owned by the National Trust in Snowdonia.
Presenter Jenni Murray
Producer Clare Walker
Last on

Clips

Broadcast