Main content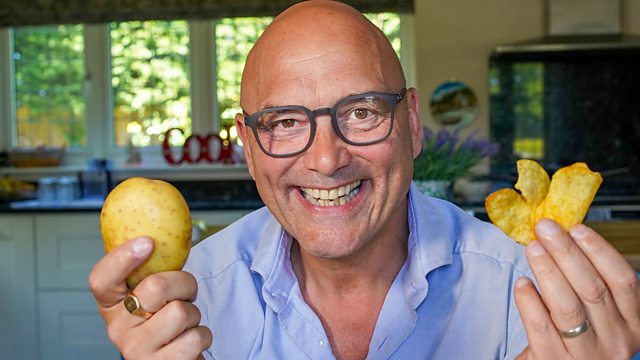 Crisps Update
As many UK factories face unprecedented demand, Gregg Wallace catches up with some of the factory workers who are toiling around the clock to make sure our cupboards are stocked.
The coronavirus crisis has created intense pressure on many of our nation's factories; in just one week in March, British families spent an extra billion pounds on their grocery shopping. This new series celebrates some of the behind-the-scenes heroes who are working around the clock in our factories to ensure that our cupboards at home are kept stocked.
Over five years of filming Inside the Factory, Gregg Wallace has visited 37 factories. He understands the extraordinary processes and people it normally takes to keep Britain supplied with household essentials. Now he's catching up with some of them to find out how they're adapting at this time of unprecedented demand.
In episode three, Gregg reconnects with the Walkers crisps factory in Leicester, the largest crisp factory in the world, which he visited back in 2016. We Brits love a snack, and when the coronavirus crisis hit, sales of packet treats rose by 32% as shoppers spent more than £63 million in just one week. Responding to the surge in demand the factory made big changes to their production, sending out an extra 1,000 pallet loads of crisps every 24 hours.
Throughout the episode, Gregg looks back over the whole production process from 2016. First he followed 27 tonnes of potatoes from a farm in Hampshire to the crisp factory, where they were peeled, sliced and fried. Gregg put his taste buds to the test joining a team of 'supertasters', and once the crisps were flavoured he finally watched them being put into bags in one of the craziest factory rooms he had ever seen, where over 100 machines filled hundreds of thousands of bags every hour. Also back in 2016, Cherry Healey discovered the secrets of perfect crisp potatoes, and historian Ruth Goodman investigated who really invented the crisp; was it the Americans, as is often cited, or in fact the British?
Today, Gregg is self-isolating at home with his family, so he catches up with some of the factory workers via video calls to find out how they're coping in these extraordinary circumstances. He speaks to factory manager Carl Lewis, who reveals that, in order to keep up with demand, they're making big changes to their output, switching away from the single packs you would normally buy in pubs and cafes to 90% of production now delivering the larger multi-packs sold in supermarkets. This has meant some conveyors and control systems have had to be reconfigured, so it's been non-stop change at the factory.
Later in the episode, Carl introduces Gregg via video call to on-site engineer Alex O'Donnell. During the first few weeks of lockdown the team were faced with a faulty potato fryer; a problem which could have meant a loss of up to 20,000 bags of crisps per hour! There followed a tricky repair on a pipe seven meters above ground with a system of scaffolding towers, all while maintaining social distancing; thanks to brilliant and careful teamwork, the machine was back up and running within 24 hours.
Carl also reveals to Gregg a brand-new piece of kit which has helped the team keep the line running during the crisis, and which could revolutionise the way they operate in the future. Carl demonstrates how he uses a special camera headset, so when specialist engineers can't physically get to site he can give them a virtual tour of the factory floor. Recently to fix a particular issue with a piece of machinery he connected to the supplier of the machine in Seattle along with people in their Dallas and Netherlands offices; together they were able to solve the problem. Carl tells Gregg that he believes many businesses will work differently in the future, and that there are some changes for the good that have come out of the crisis.
Gregg finishes his own virtual catch up with the lockdown factory by speaking to Adele Bright who manages the factory's massive distribution centre and the extraordinary 'crisp monorail', which moves more than five million bags of crisps over the gigantic 37,000-square-metre site every day. Adele reveals they're shipping out around 50,000 pallets every week compared to the usual 43,000; and are able to process about 135,000 more 24-pack multipacks every day!
Finally, it's time to say goodbye to Adele and to Gregg's roving reporter Carl. Gregg signs off with a big thanks to the factory workers on behalf of all 'the crisp munching people of this country'.
Music Played
Timings (where shown) are from the start of the programme in hours and minutes
00:04

Mumford & Sons

Guiding Light

00:05

Courteeners

Not Nineteen Forever

00:07

The Drums

Let's Go Surfing

00:08

Djosos Krost

The Sound of Swing

00:09

Florence + the Machine

Delilah

00:16

The BossHoss

Sing My Personal Song

00:16

The BossHoss

Dos Bros

00:20

Paloma Faith

Ready For The Good Life

00:20

Hudson Taylor

Chasing Rubies

00:21

Seth Lakeman

The Wanderer

00:25

Tom Grennan

Found What I've Been Looking For

00:34

Maverick Sabre

Walk Into The Sun

00:36

Clean Cut Kid

Pick Me Up

00:53

The Vamps

Last Night

00:53

Alex Clare

Too Close

00:58

Sigala

Came Here For Love (feat. Ella Eyre)

00:58

Of Monsters and Men

Human (Glastonbury 2016)
Credits
| Role | Contributor |
| --- | --- |
| Presenter | Gregg Wallace |
| Presenter | Cherry Healey |
| Presenter | Ruth Goodman |
| Executive Producer | Lucy Carter |
| Series Producer | Nicola Lafferty |
| Director | Gavin Ahern |
| Production Company | Voltage TV |
| Executive Producer | Sanjay Singhal |