Main content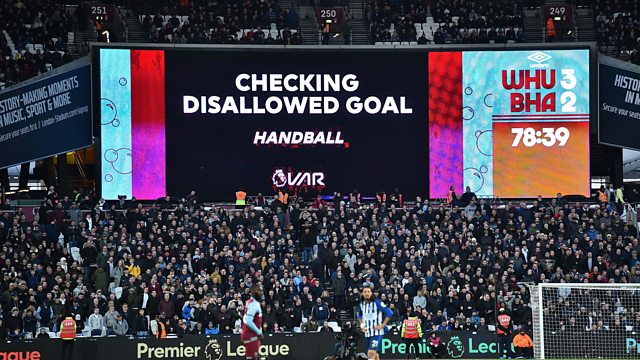 Life, Uncertainty and VAR
VAR was to rid football of poor decisions, but fans aren't convinced. What does the VAR experience tell us about how we should all deal with uncertainty. Tom Chivers investigates.
When football introduced the Video Assistant Referee, better known as VAR, fans thought it would cut out bad refereeing decisions but, as we limp toward some conclusion of this Covid-19 interrupted season, many now want to see the pitch referee back in charge.
In 'Life, Uncertainty and VAR', the writer, blogger and journalist Tom Chivers argues that as in football, so in life and society; promises to eliminate uncertainty are liable to end in disappointment.
Worse, the better we get at revealing truth, for example weather forecasts, the more furious we become about the sliver of unknown which remains.
So, what to do about uncertainty - reject it or live with it? This programme began with a Twitter thread from a West Ham fan, Daisy Chistodoulou, at the London stadium where play was on hold waiting for the VAR to declare if a goal had been scored.
Daisy Chistodoulou's day job is measuring attainment in education. In her experience the tools we use to measure progress can become ends in themselves.
As with VAR, the question is when does measurement conflict with meaning - it was a great goal; what has a big toe, forensically snapped breaking a line a minute before, halfway up the pitch, got to do with it?
And if you can't tell what just happened, how are we meant to cope with figuring out what might? How are we to act when, as with the Covid-19 crisis, we have a paucity of data that changes rapidly?
In search of answers as to how we should cope with uncertainty, Tom speaks to a man whose life's work has being trying to help people understand the risks we face in everyday life , Professor David Spiegelhalter - author of the Art Of Statistics and to Jennifer Rodgers of the medical statistics consultancy Phastar, who interprets data from pharmaceutical trials. We hear from Michael Blastland, journalist and author of The Hidden Half: How The World Conceals Its Secrets, a book about how we don't know half of what we think we do but still manage to struggle on; and finally, Michael Story, a man so good at predicting the future he runs a consultancy called Maybe!
Presenter Tom Chivers
Producer Kevin Mousley
Last on
Broadcast