Main content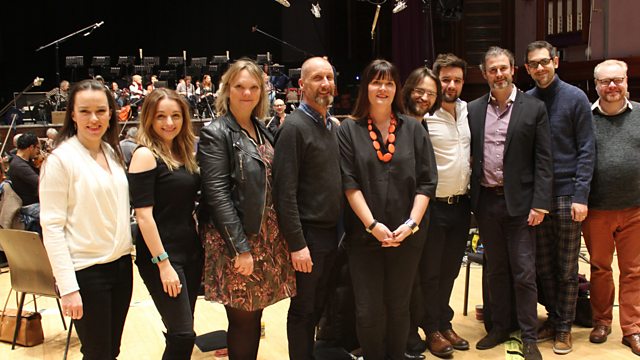 BBC Singers and BBC Concert Orchestra
Opera Matinée - Penny Gore presents the comic opera, The Mountebanks, with a libretto by WS Gilbert and music by the music director of the D'Oyly Carte company, Alfred Cellier.
Opera Matinée - Penny Gore presents a recording of the comic opera The Mountebanks, with libretto by WS Gilbert working without his famous partner Arthur Sullivan. As music director of the D'Oyly Carte company, conductor and composer Alfred Cellier was no stranger to G & S operas and writes charming music very much in the style. Gilbert was very interested in the 'lozenge plot' storyline, in which characters undergo a transformation thanks to a lozenge or, as here, a magic potion which leads to complications and intrigue in the pursuit of true love.
2.00pm
Gilbert and Cellier: The Mountebanks
Teresa: Soraya Mafi (soprano)
Alfredo: Thomas Elwin (tenor)
Arrostino: James Cleverton (baritone)
Minestra: Sharon Carty (mezzo soprano)
Risotto: John-Colyn Gyeantey (tenor)
Nita: Catherine Carby (mezzo soprano)
Bartolo: John Savournin (bass-baritone)
Pietro: Geoffrey Dolton (baritone)
Ultrice: Madeleine Shaw (mezzo soprano)
Elvino: Martin Lamb (bass-baritone)
Step-out solos from BBC Singers: Olivia Robinson (soprano), Nancy Cole (mezzo), Tom Raskin (tenor), Andrew Rupp (baritone)
BBC Singers
BBC Concert Orchestra
Daniel Cook, Chorus master
John Andrews, conductor
--------------
4.10pm
Anton Simon: Danse de Bayadère, Op 34
BBC Concert Orchestra
Martin Yates, conductor
4.30pm
Walter Braunfels: Serenade, Op 20
BBC Concert Orchestra
Johannes Wildner, conductor
Photo credit: Lewis Foreman
Last on

SYNOPSIS - THE MOUNTEBANKS
ACT I
The opera is set in Sicily.
A secret society of bandits, the Tamorras, nurses a 500-year-old vow of revenge, for puzzlingly obscure reasons. Their leader, Arrostino makes a plan for them to disguise themselves as monks and kidnap a local Duke when he and his Duchess pass by the next day, then hold him ransom.
Meanwhile, in the village, there's a love-triangle brewing: young Alfredo loves the beautiful Teresa, but she doesn't love him. Another girl, Ultrice, the inn-keeper's niece, is crazy about Alfredo, but he won't give her a second glance.
The imminent arrival of the grand personages has drawn a troupe of travelling actors, led by Pietro and intent on entertaining the guests with two automata representing Hamlet and Ophelia.
The scene is set for comic disaster, and what brings it about is the arrival of a mysterious potion, the only thing left behind when an old alchemist staying at the village inn managed to blow himself up. The label on the bottle says that the liquid within will 'make everyone who drinks it exactly what they pretend to be', and Ultrice, overhearing this, spots her chance: her uncle wants her and Alfredo to impersonate the Duke and Duchess so he can practise serving the nobility: if they drink the potion, their pretend identities – and marriage - will become real.
Pietro – who's also learned the secret of the potion - suggests that two of his actors, Bartolo and Nita impersonate the clockwork figures, which have got held up in a customs wrangle at the border, while Teresa, having heard Alfredo say that he'll pretend to reject her, childishly shoots back that she'll pretend to be crazy with love for him. But only Ultrice and Pietro actually know about the potion. As the fatal brew (slipped into a flagon of wine) is poured out and everyone drinks heartily.
ACT II
We re-join the action with everyone in their pretend guises, which, of course, are now real – so, the bandits are monks; Alfredo and Ultrice are the Duke and Duchess arriving at the monastery, and Bartolo and Nita are walking about with the strange, jerky gait of a pair of clockwork automata. Teresa's mad with love for Alfredo, but now he won't have anything to do with her.
As for Pietro, unfortunately, he didn't think things through – he tried to stop Alfredo from drinking the potion by telling him it was poison, so he's now doomed to die slowly by degrees. But he tells everyone that he can reverse the effects by burning the potion's label – he'll do it just as soon as the automata have performed for the Duke and Duchess.
There's just one small problem: he doesn't have the label; Ultrice does. Pietro dropped it and didn't notice her picking it up, and she has no intention of reversing the spell as long as Alfredo's in love with her. Pietro summons the automata to perform for the Duke and Duchess, but then it dawns on him who the noble pair really are. He goes to administer the antidote but he can't, and Bartolo and Nita have to ponder the possibility of spending the rest of their lives as clockwork models of Hamlet and Ophelia. A triumphant Ultrice taunts Teresa, but in the end, she can't stand by and watch as the distraught girl threatens to throw herself off a parapet. Ultrice hands over the label; in a puff of smoke the potion wears off and everyone is restored to their normal selves – hopefully having learned some painful lessons.
Broadcast