Main content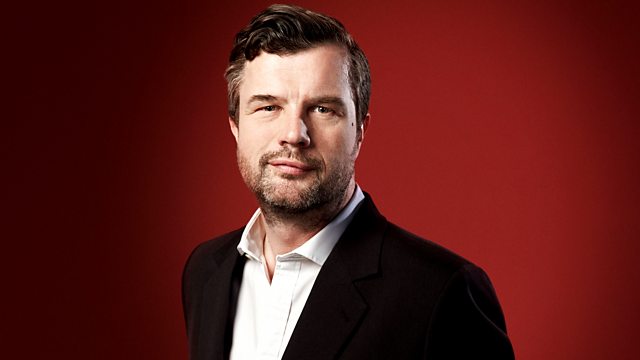 Thursday - Petroc's classical rise and shine
Petroc Trelawny presents Radio 3's classical breakfast show, featuring listener requests.
Email 3breakfast@bbc.co.uk
Last on

Music Played
Richard Strauss

Morgen (4 Lieder Op.27)

Singer: Elisabeth Schwarzkopf. Orchestra: London Symphony Orchestra. Conductor: George Szell.

R. Strauss: 4 Last Songs.
EMI.
13.

Franz Liszt

Les jeux d'eau a la Villa d'Este

Performer: Zoltán Kocsis.

Franz Schubert

String Trio in B flat major, D.581 (1st mvt)

Performer: Sergey Ostrovsky. Performer: Noémie Bialobroda. Performer: Daniel Mitnitsky.

Schubert: String Trio in B-Flat Major & String Quintet in C Major.
Naxos.
101.

Johann Sebastian Bach

Keyboard Concerto no.5 in F Minor, BWV.1056

Performer: Masato Suzuki. Ensemble: Bach Collegium Japan.

Bach: Concertos for Harpsichord & Strings, Vol. 1.
BIS.
4-6.

Henriëtte Bosmans

3 Impressions (In Spain)

Performer: Leah Plave. Performer: Dan Sato.

Impressions: The Rediscovery of Henriëtte Bosmans.
Leah Plave.
9.

Joseph Haydn

String Quartet in A major, Op.20`6 (2nd mvt)

Ensemble: London Haydn Quartet.

Haydn, String Quartets Op 20.
HYPERION.
10.

Ross Edwards

Laikan I (Madagascan Song)

Ensemble: The Seymour Group.

Incantations: Chamber Music by Ross Edwards.
ABC Classics.

Justin Vali

Kintana [The Open Roof]

Performer: Justin Vali Trio.

The Truth (Ny Marina).
Real World Records.
12.

Carl Philipp Emanuel Bach

Violin Sonata in D Major, Wq.74

Performer: Tamsin Waley-Cohen. Performer: James Baillieu.

CPE Bach: Complete Original Works for Violin and Keyboard.
Signum Classics.

Edward Elgar

Scenes from the Bavarian Highlands Op.27 O(n the Alm)

Choir: London Symphony Chorus. Orchestra: London Symphony Orchestra. Conductor: Richard Hickox.

Elgar: The Black Night; Scenes From The Bavarian Highlands.
CHANDOS.
014.

Georg Philipp Telemann

Concerto for 2 recorders in A minor, TWV 52:a2

Performer: Michael Schneider. Performer: Martin Hublow. Ensemble: La Stagione Frankfurt.

Mark Mothersbaugh

Let Me Tell You About My Boat

Performer: Mark Mothersbaugh.

The Life Aquatic with Steve Zissou (soundtrack).
Hollywood Records.

Maurice Ravel

Pavane pour une infante défunte

Orchestra: London Symphony Orchestra. Conductor: Claudio Abbado.

Michael Flanders

Slow Train

Composer: Donald Swann. Singer: Michael Flanders. Performer: Donald Swann.

The Complete Flanders and Swann: At The Drop Of Another Hat.
EMI.
12.

Percy Grainger

Train Music

Orchestra: City of Birmingham Symphony Orchestra. Conductor: Sir Simon Rattle.

Traditional Scottish

My Love Is Like a Red, Red Rose

Music Arranger: Eriks Esenvalds. Author: Robert Burns. Singer: Declan Wildes. Performer: Mikie Smyth. Choir: UCD Choral Scholars. Conductor: Desmond Earley.

Perpetual Twilight: The Choral Scholars of University College Dublin.
Signum Classics.
201.

Ludwig van Beethoven

Piano Concerto no.4 in G Major Op.58 (3rd mvt)

Performer: Elizabeth Sombart. Orchestra: Royal Philharmonic Orchestra. Conductor: Pierre Vallet.

Beethoven: Piano Concertos Vol. 2.
Signum Classics.
203.

Paul Simon

Homeless

Music Arranger: Joseph Shabalala. Choir: Ladysmith Black Mambazo.

Long Walk To Freedom.
Heads Up International.

Diego Ortiz

Recercada Segunda

Music Arranger: Genevieve Lacey. Music Arranger: James Crabb. Performer: Genevieve Lacey. Performer: James Crabb.

Heard This and Thought of You.
ABC Classics.
1.

Anne Dudley

Jeeves and Wooster (Theme)

Ensemble: Dover Street Jazzomaniacs.

The World of Jeeves and Wooster.
EMI.
001.

Turlough O'Carolan

Captain O'Kane

Performer: Aryeh Frankfurter.

Celtic Harp - The Music Of O'Carolan (O'Carolan's Dream).
ARC Music.
3.

Hector Berlioz

Le Corsaire, Op.21

Orchestra: Boston Symphony Orchestra. Conductor: Charles Munch.

Edward Elgar

Sea Slumber Song (Sea Pictures)

Singer: Alice Coote. Orchestra: Hallé. Conductor: Sir Mark Elder.

Tomaso Giovanni Albinoni

Concerto à 5 in B flat major, Op.7`3

Performer: Alison Balsom. Ensemble: Scottish Ensemble.

Italian Concertos; Alison Balsom, Scottish Ensemble.
EMI Classics.
7.
Broadcast