Main content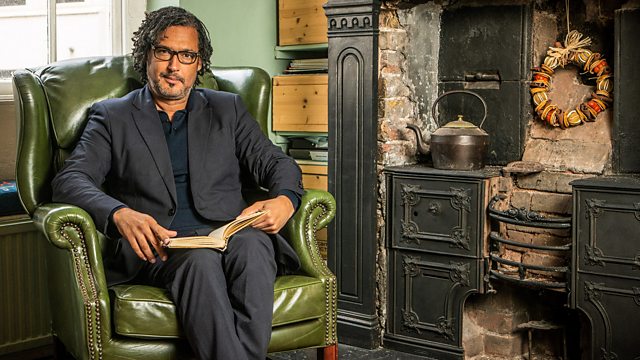 David Olusoga traces the house's fortunes from the late 18th to the mid-19th century, discovering tales of scandal, domestic violence and the asylum.
David Olusoga investigates the residents of Number 10 Guinea Street from the end of the 18th century until the 1870s. They are an extraordinarily diverse bunch, from a middle-class solicitor who becomes mayor to a struggling former servant trapped in an abuse relationship.
His first investigation picks up the story of the Holbrook family at the death of sea captain Joseph Holbrook. Joseph's will hints at a rift with his youngest daughter Ann when he writes that she has 'misbehaved and disobliged' him and her mother Hester. Curious to discover what this phrase means and what Ann may have done to anger her parents in this way, David sets out to investigate.
He discovers that Ann Holbrook gets married nine years after her father's death to a clergyman called James Poulson. But sadly, this marriage, which could have saved Ann's damaged reputation, instead proves to be a catastrophic error. Poulson is not the man he claims to be, and the lies and scandal that surround him eventually have devastating consequences for Ann and the Holbrook family.
David's next search leads him to the Haberfield family, who appear in the house's records from 1804. While the senior Haberfields, Andrew and Mary, make little dent on history, the same is not true of their teenage son John Kerle Haberfield. Young John makes his way up the professional ladder, becoming first a solicitor, then a local politician. By 1831, he is working in local government when riots erupt in Bristol, led by angry citizens protesting the notoriously corrupt voting system. The riots end with bloodshed, looting and central Bristol in flames.
Six years later in 1837, John Haberfield is made mayor of Bristol. It is a huge honour, but a tumultuous time to rise to power. In 1839, unrest boils up once again as protesters begin to rally around the Chartist cause, demanding the vote for all working men. Full-scale riots soon threaten to erupt, and Haberfield is called upon to formulate the official response. Keen to avoid the bloodshed of 31, he must make some difficult choices.
The next residents in Number 10 Guinea Street are the Harris family, who live in the house for over two decades, from the early 1840s to the 1860s. Although their lives are relatively uneventful, David discovers that living alongside them is a domestic servant named Hester Gray. Curious to find out more about the life of a woman in service, David decides to investigate.
Hester is the sole servant in the house, so would have had a relentless routine of cleaning, cooking and household chores keeping her busy from dawn until dusk. But Hester leaves her job to get married and appears to be making a fresh start. David's next step is to trace her movements from Guinea Street to slum accommodation nearby.
Sadly, David discovers from a series of newspaper articles from the 1870s that Hester's relationship with her husband Henry is a troubled one. The reports detail a shocking case of domestic violence involving the couple. The incident begins with a drunken argument in a local pub, and ends at the family home with a violent assault and a tragic accident involving Hester's sister-in-law.
David's final search is into the house's next resident, William Martin. William is an entrepreneurial young teacher and part-time physiognomist who runs a business school out of No 10 Guinea Street. But there is more to his story than first meets the eye. William's promising career is abruptly cut short when he is admitted to the local lunatic asylum. Here, David finds a series of extraordinary letters, written in William's own hand, which give an insight into his deteriorating state of mind and shed light on this tale of thwarted ambition and wasted potential.
Clips

Credits
| Role | Contributor |
| --- | --- |
| Presenter | David Olusoga |
| Series Producer | Mary Crisp |
| Production Manager | Zarina Dick |
| Composer | Paul Honey |
| Executive Producer | Maxine Watson |
| Production Company | Twenty Twenty TV |
| Director | Edmund Moriarty |
| Editor | Richard Wilkinson |
| Producer | Jonathan Rowlands |