Main content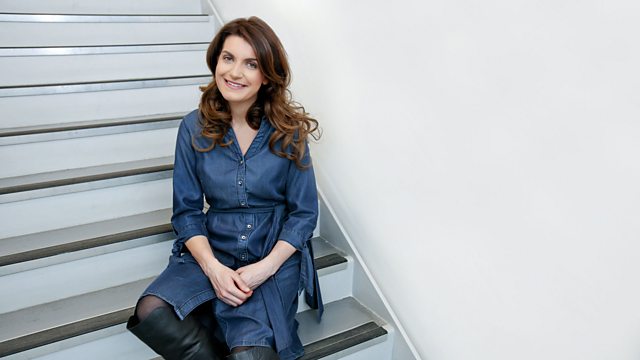 Il Corsaro
Opera matinee. Verdi's Il Corsaro from the Chopin and his Europe International Music Festival.
Opera matinee: Verdi's Il Corsaro from the Chopin and his Europe International Music Festival.
Presented by Georgia Mann.
Verdi: Il Corsaro, opera in three acts after Byron, to a libretto by Francesco Maria Piave
Matheus Pompeu, tenor, Corrado
Ilona Mataradze, soprano, Medora
Karen Gardeazabal, soprano, Gulnara
Aleksey Bogdanov, baritone, Seid
Mateusz Stachura, bass, Giovanni
Paweł Cichoński, tenor, Selimo, Enuco, Schiavo
Podlasie Opera and Philharmonic Chorus
Europa Galante
Fabio Biondi, conductor
Last on

SYNOPSIS
Act I
Act I opens with the corsairs revelling in their lawless state on an island in Aegean. Their leader Corrado looks on approvingly. He is taking his vengeance on the world, having been rejected for his wicked ways. He recalls his youthful love and happiness and how they were taken from him. Then his second in command Giovanni arrives with a letter from a Greek spy. Corrado tells his men to prepare to sail in an hour, to face Turkish forces in battle. Corrado then heads for his tower. Inside Medora awaits Corrado's return and sings about her sadness at his absence. She asks him why he flees her love and he tells her it is his only consolation but that he must now leave her again. He promises he will return and a cannon shot is fired to show that his ship is ready to sail. Corrado assures Medora that he will be back and the act closes as he heads off for adventures unknown.
Act II
Act II opens in a room at the harem of Seid, the Pasha of Croon. Female slaves hail Gulnara, the Pasha's favourite, then they encourage Gulnara to adorn herself with jewels and every opulent item going. But Gulnara is less than ecstatic with the Pasha's love; she thinks sadly about her lost homeland, but her reverie is interrupted by a eunuch who tells Gulnara that Seid is set to hold some anticipatory victory celebrations and her presence is required. Gulnara hopes that heaven may save her from her sorrows.
The action moves to Seid's officers celebrating in his pavilion in the harbour at Coron, looking forward to the imminent destruction of Corrado and his pirates. A slave then announces the arrival of a dervish (actually Corrado in disguise) who has apparently just escaped from the pirates. He asks for Seid's protection and The Pasha then questions the mysterious dervish about the pirates' plans. Suddenly, a bright light fills the air; a fireship placed by the pirates in Seid's harbour has set fire to his fleet and the fire has spread to the harem. Suspecting something is amiss with the dervish, Seid has Corrado taken prisoner. Corrado then throws off his disguise as his men enter to attack the Turks. Women's voices from the burning harem divert Corrado and his men inside to save them; Corrado then returns carrying Gulnara. It may have been the polite thing to do but unfortunately it scuppers victory for the pirates, Corrado is captured and demands not mere threats but death at Seid's hands.
By this point Gulnara is beginning to fall for the heroic Corrado. Seid then warns Corrado that his death will be a slow and terrible one, while Gulnara reminds The Pasha that Corrado had in fact saved her and her slaves.
Act III
In his apartments, Seid is musing on his success at catching Corrado but worrying somewhat about Gulnara's feelings for him. He sends for her and commands that Corrado be put painfully to death the following day. Gulnara suggests that it may be more profitable for Seid to ransom him than violently murder the dashing pirate. Seid accuses Gulnara of being in love with Corrado and threatens to reduce her favoured position to that of a mere slave.
Meanwhile Corrado himself is contemplating his fate while chained up in a tower. He thinks sorrowfully of Medora, then Gulnara arrives and tells him that she has pleaded in vain for his life and hates Seid, who enslaved her. She has come up with a plan of escape having bribed the guards, and tells Corrado he has only to use the dagger she has brought to kill Seid. He considers this too dishonourable an act, and is unable to bring himself to make a move. But Gulnara does kill the Pasha, much to Corrado's dismay.
Then the action switches back to the Aegean Island where Corrado's beloved Medora is anxiously awaiting him, asking the pirates what has happened to him. His ship arrives but it is all too late as Medora has poisoned herself, thinking she's never going to see Corrado again. Before she dies Medora thanks Gulnara for saving Corrado's life and discovers that Gulnara is in unrequited love with him. When Medora finally dies, Corrado throws himself into the sea, leaving Gulnara senseless on the floor.
Broadcast