Main content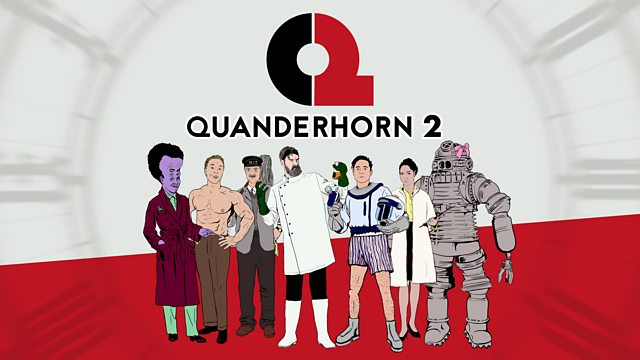 6. I Heregy Thind You Guilky
Under the heel of the Martian invaders, the crew race to rescue Quanderhorn from execution. And fail. But will painting Brian's bottom with lipstick save the day?
Quanderhorn (James Fleet) is tried for treason by Churchill (John Sessions), and sentenced to death.
Guuuurk (Kevin Eldon) rejoins the team, and they race to the rescue in a hijacked Martian tripod.
But too late. They arrive just in time to witness the Professor's execution.
Rudderless without Quanderhorn, the team – Brian (Ryan Sampson), Gemma (Cassie Layton), Jenkins (John Sessions) and Troy (Freddie Fox) along with Guuuurk and Diving Suit Dolores (Rachel Atkins) – flee aimlessly.
But in the very pit of their despair, hope arrives in an unexpected package – a dormobile full of ravenous trained monkeys.
Meanwhile, the Imperial Martian Opera is mopping up the blood on the stage from Act One of Cozi Tanned Floozie, blissfully unaware that an unexpectedly spectacular Act Two is about to follow – and it's nothing to do with the giant exploding banana.
Starring
James Fleet as Professor Quanderhorn
Ryan Sampson as Brian Nylon
Cassie Layton as Dr Gemini Janussen
Freddie Fox as Troy Quanderhorn
Kevin Eldon as Guuuurk
John Sessions as Sergeant 'Jenkins' Jenkins and Churchill
Rachel Atkins as Delores
Created and Written by Rob Grant and Andrew Marshall
Directed by Andrew Marshall
Studio Engineer and Editor: Alisdair McGregor
Production Manager: Sarah Tombling
Special Thanks to Edward Rowett
Recorded at The Soundhouse Studios
Produced by Rob Grant and Gordon Kennedy
An Absolutely production for BBC Radio 4
Last on
More episodes
Next
You are at the last episode
Broadcasts