Main content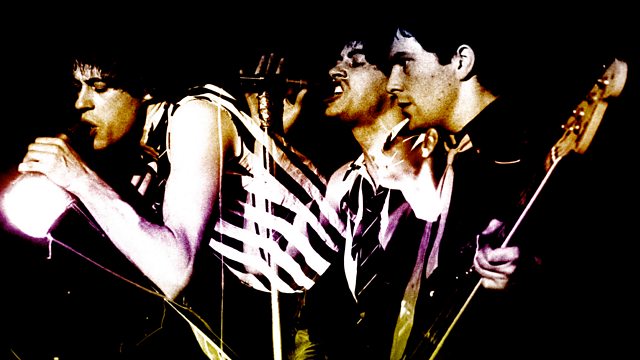 Citizens of Boomtown: The Story of The Boomtown Rats
The story of The Boomtown Rats, who fought a conservative Ireland, broke through the UK punk scene, scored global No 1 hits and revolutionised the world with Bob Geldof's Live Aid.
With guests including Bono, Sinead O'Connor, Dave Stewart, Jools Holland, David Mallet and Sting, as well as music writers, photographers and historians, this film explores the musical and social legacy of Ireland's first rock superstars The Boomtown Rats, who changed their own lives, helped to change Ireland and, with Bob Geldof's Live Aid, changed the world.
In this entertaining, dramatic and absorbing film, director Billy McGrath digs deep into the band's history and remarkable songbook and highlights the key moments of its huge success and subsequent fall in 1985. And after over 30 years, why did the band regroup in 2013?
Music Played
Timings (where shown) are from the start of the programme in hours and minutes
00:05

The Boomtown Rats

D.U.N. L.O.A.G.H.A.I.R.E

00:06

The Boomtown Rats

Close As You'll Ever Be

00:10

Woody Guthrie

All You Fascists

00:13

Bob Geldof, The Boomtown Rats

Shes Gonna Do You In

00:13

Sex Pistols

Anarchy In The U.K.

00:14

The Boomtown Rats

Joey's On The Street Again

00:14

The Boomtown Rats

Neon Heart

00:15

The Boomtown Rats

My Blues Away

00:16

The Boomtown Rats

Lookin' After No 1

00:23

The Boomtown Rats

Kicks

00:25

The Boomtown Rats

Mary of The 4Th Form (From The Boomtown Rats [1977])

00:26

The Boomtown Rats

She's So Modern

00:26

The Boomtown Rats

Me And Howard Hughes

00:27

The Boomtown Rats

Like Clockwork

00:28

The Boomtown Rats

Rat Trap

00:34

The Boomtown Rats

Having My Picture Taken

00:37

The Boomtown Rats

Don't Believe What You Read

00:38

City of Prague Philharmonic: Paul Bateman

Taxi Driver Main Theme

00:44

The Boomtown Rats

A Second Time

00:47

The Boomtown Rats

I Don't Like Mondays

00:49

The Boomtown Rats

Nice N Neat

00:50

The Boomtown Rats

Someone's Looking At You

00:50

The Boomtown Rats

Nothing Happened Today

00:51

The Boomtown Rats

Whitehall 1212

00:54

The Boomtown Rats

Banana Republic

00:59

Visage

Fade To Grey

01:01

Visage

Fade To Grey

01:01

The Boomtown Rats

Elephant's Graveyard

01:02

Dan Cassady

Into Thin Air

01:03

The Boomtown Rats

Never In A Million Years (V Deep [1982])

01:03

The Boomtown Rats

Tonight

01:04

The Boomtown Rats

Talking in Code

01:04

Pink Floyd

Another Brick In The Wall, Part 2 (Live)

01:05

Pink Floyd

Another Brick In The Wall, Part 2

01:06

The Boomtown Rats

A Hold of Me

01:11

Band Aid

Do They Know It's Christmas?

01:08

The Boomtown Rats

Fall Down

01:12

USA for Africa

We Are The World

01:25

Bob Geldof

Pale White Girl

01:28

The Boomtown Rats

The Boomtown Rats
Credits
| Role | Contributor |
| --- | --- |
| Interviewed Guest | Bob Geldof |
| Interviewed Guest | Sting |
| Interviewed Guest | Sinéad O'Connor |
| Interviewed Guest | Bono |
| Interviewed Guest | Jools Holland |
| Interviewed Guest | David Mallet |
| Interviewed Guest | Paul Gambaccini |
| Interviewed Guest | Bob Gruen |
| Interviewed Guest | David Fricke |
| Interviewed Guest | Neil McCormick |
| Interviewed Guest | Dave Stewart |
| Interviewed Guest | Charles Shaar Murray |
| Interviewed Guest | Pete Briquette |
| Interviewed Guest | Simon Crowe |
| Interviewed Guest | Garry Roberts |
| Interviewed Guest | Gerry Cott |
| Director | Billy McGrath |
| Producer | Billy McGrath |
| Editor | Michael O'Sullivan |
| Production Manager | Pamela Lee |
| Animator | Anna K Wright |
| Composer | Pete Briquette |