Main content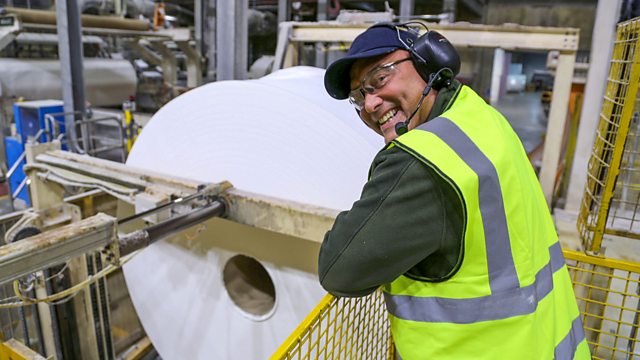 Toilet Roll Update
As many UK factories face unprecedented demand, Gregg Wallace catches up with some of the factory workers who are toiling around the clock to make sure our cupboards are stocked.
The coronavirus crisis has created intense pressure on many of our nation's factories - in just one week in March, British families spent an extra billion pounds on their grocery shopping. This series celebrates some of the behind-the-scenes heroes who are working around the clock in the factories to ensure that our cupboards at home are kept stocked. 
Over five years of filming Inside the Factory, Gregg Wallace has visited 37 factories. He understands the extraordinary processes and people it normally takes to keep Britain supplied with household essentials. Now, he is catching up with some of them to find out how they are adapting at this time of unprecedented demand.
In the first episode, Gregg catches up with the Essity paper mill in Manchester, which he visited back in 2018. The coronavirus crisis caused a huge spike in toilet roll sales - in March, the British public bought 145 million more rolls than usual. When Gregg visited the factory two years ago, they were making 700,000 toilet rolls a day - now they have upped production to make an incredible one million rolls every day, seven days a week. 
Throughout the episode, Gregg looks back to 2018, when he witnessed the whole production process. First, he travelled to Sweden, where wood from spruce trees was turned into sheets of pulp. In the Manchester factory, he learned that two types of wood fibre, long and short, are required for loo roll to give it strength and softness. He watched as 3,750 kilos of fibre were combined with 34,000 litres of water - it took just four seconds for the pulp mix to be transformed into soft, dry paper. It was then rolled onto a super-sized toilet roll known as a 'mother reel', which eventually gives birth to 25,000 individual rolls.
Today, Gregg is self-isolating with his family, and only essential people are allowed on the factory floor, so Gregg catches up with some of the workers he previously met via video calls to find out how they are coping in these extraordinary circumstances. A two-person crew observing strict social distancing cat with Gregg, while the factory workers film their own footage on site using sterilised equipment. First, Gregg speaks to manager Allan Hughes, who reassures him that the pulp from Sweden is still getting through and production has increased. Allan's son Owain also works in the factory, and the two agree to be Gregg's team of 'roving reporters', to show behind-the-scenes areas not previously seen in the original episode. They also reveal how their staff are keeping safe across the site, including the work of a team of cleaners who cover an area the size of five football fields eight times every 24 hours!
Next, Gregg has a video catch up with process engineer Mark Spooner, who confirms that to meet demand, the factory has made some changes to production, including reducing the variety of their packages but increasing the volume of the main products in order to maximise the amount of toilet rolls they can distribute. In a moving personal exchange, Mark also tells Gregg that his parents and sister work in the NHS. Gregg says that Mark and his family are all doing essential work and invites him to 'give the country a wave'.
Later in the episode, roving reporter Allan reveals how factory apprentices are using 3D-printer technology to design personalised devices to open door handles. Each worker has their own tool with their engraved initials, ensuring less direct contact with handles around the factory, reducing the risk of contamination and helping to keep the workforce going.
Gregg catches up with Allan again in the enormous mother-reel storage warehouse. Previously, Gregg has witnessed the production of these giant 1.2 tonne reels - now in their video chat, Allan reveals that there are 2,000 mother rolls stacked behind him, which would make 20 million toilet rolls. Allan tells Gregg that the average family of four uses four toilet rolls a week and therefore the current mother roll store would provide enough loo rolls to last 96 thousand years. So there is definitely no fear of us running out!
As well as looking back at Cherry Healey and historian Ruth Goodman's explorations into what happens when we flush and what we used in the days before loo roll, the programme also sees Cherry's recent visit to the Bombay Sapphire Gin Distillery in Hampshire, which, alongside its usual production of 20,000 litres of gin, is making two thousand litres of hand sanitiser every week, which they deliver free of charge to local frontline workers and their patients.
Finally, having looked back over the factory's entire production process and caught up with its many efforts to boost output and keep its staff safe, it is time for Gregg to say goodbye to his roving reporter Allan. As Gregg says, Allan is a 'humble man', but he admits to how proud he is of his whole team, and Gregg signs off with a big thanks to them on behalf of everyone.
Music Played
Timings (where shown) are from the start of the programme in hours and minutes
Credits
| Role | Contributor |
| --- | --- |
| Presenter | Gregg Wallace |
| Presenter | Cherry Healey |
| Presenter | Ruth Goodman |
| Executive Producer | Lucy Carter |
| Series Producer | Nicola Lafferty |
| Director | Gavin Ahern |
| Production Company | Voltage TV |