Main content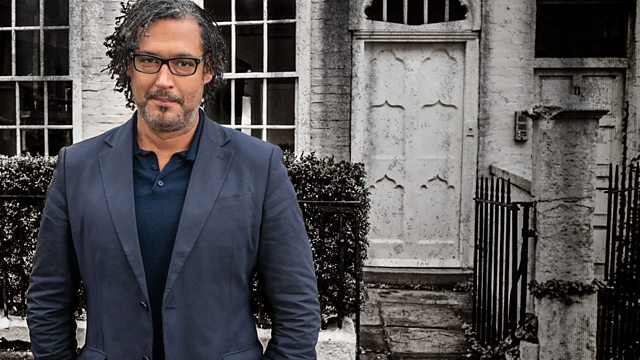 David Olusoga investigates the residents of an 18th-century house in Bristol, uncovering stories of piracy, an abandoned baby, a notorious political writer and a runaway slave.
David Olusoga sets out once more to uncover the history of a single house, discovering remarkable stories along the way – of piracy, a foundling baby and a runaway slave.
In this series, the featured property is an 18th-century sea captain's house situated near Bristol's docks - Number 10 Guinea Street. Arriving for the first time, David meets the homeowners Karen and David, who show him around the house. Its panelled walls, flagstone floors and substantial cellars are redolent of history, but the owners know little about their home's previous occupants. David sets out to discover more.
The name Guinea Street is itself a clue about Number 10's origins. It is named after the Guinea Coast in west Africa, a hub of the international slave trade. And the date the house was built, 1718, was at a time when Bristol was becoming Britain's premier slaving port. Unsurprisingly perhaps, the man who built the house, Captain Edmund Saunders, was a prolific slave trader himself, trafficking men, women and children from Africa to the sugar plantations of the Caribbean.
Saunders wasn't the only resident with connections to the slave trade. As David finds out, the same is true of the first full-time resident, Joseph Smith. Smith was another sea captain, and while hunting for more information about his life, David uncovers extraordinary evidence from one of his voyages from 1721. A handwritten account from one of the ship's crew reveals a story of piracy, peril and revenge which moves from the Caribbean back to Bristol, and eventually ends in London and the gallows.
Having found out about Joseph Smith, David sets out to discover more about Smith's family. This search leads him to the local church, St Mary Redcliffe, where one remarkable record reveals the existence of a baby girl named Martha, abandoned on the doorstep of 10 Guinea Street. David sets out to discover why she has been left with the Smith family and what her ultimate fate might be in an age where there was little or no support for destitute women, and abandoned children were lucky to live past infancy.
The next resident is John Shebbeare, who arrives at the house in 1750 with his wife Susannah. As David discovers, Shebbeare is a well-known doctor and a prolific political writer. As contemporary satirist Ian Hislop explains, he was also a divisive figure in political circles, who was caricatured by the famous satirical artist William Hogarth. Shebbeare's mischief-making and appetite for scandal sees him falling foul of the law, before he is immortalised in print by the famous diarist Fanny Burney.
David's final search is for the Holbrooks, who move into the house in 1751. They are Captain Joseph Holbrook, his wife Hester and their children. Joseph Holbrook is a wealthy trader importing luxury items to Bristol – predominantly sugar, produced on the slave plantations of the Caribbean. But sugar is not the only Caribbean connection in this household. Following the Holbrooks' trail uncovers the remarkable story of their black servant Thomas, described as a 'native of Jamaica'. His existence is only known from a newspaper article of 1759, which suggests that he attempted an audacious escape from his master's house, an astonishingly risky move with potentially devastating consequences.
Joseph Holbrook dies in 1774, leaving the house in Guinea Street to his widow Hester. Although she appears to have been materially provided for by her husband, her comfortable existence is challenged by new ideas. By the later decades of the 18th century, the tide is turning against the trade that made Hester's family rich and the campaign for the Abolition of Slavery is gaining momentum. As David discovers, the abolitionists of Bristol bring their message, quite literally, to Hester's doorstep.
More episodes
Previous
You are at the first episode
Clips

Music Played
Timings (where shown) are from the start of the programme in hours and minutes
00:03

Trevor Morris

Henry Says Goodbye To His Family
Credits
| Role | Contributor |
| --- | --- |
| Presenter | David Olusoga |
| Editor | Justin Badger |
| Series Producer | Mary Crisp |
| Production Manager | Zarina Dick |
| Producer | Katie Greening |
| Composer | Paul Honey |
| Editor | Tony Robinson |
| Producer | Eleanor Scoones |
| Executive Producer | Maxine Watson |
| Production Company | Twenty Twenty TV |