Main content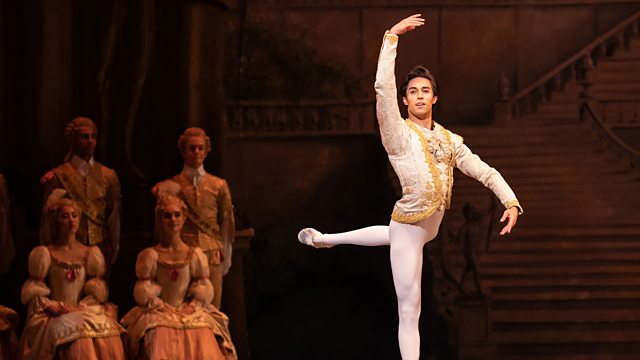 Men at the Barre - Inside the Royal Ballet
Is there still a stigma for boys who want to enter ballet? Film-maker Richard Macer investigates the reality of being a male dancer today at the Royal Ballet.
What is it like to be a male ballet dancer in the modern world? Is there still a stigma for boys who enter what is commonly seen as a female domain? Award-winning film-maker Richard Macer hopes to find out as he gets invited to film with a golden generation of talented young male dancers at the Royal Ballet.
An American TV host got into hot water for ridiculing Prince George for taking ballet at school. But why is that men are still an easy target if they want to pull on a pair of tights instead of kicking a ball around a pitch?
Macer learns that, in the past, the man's role was just to lift the ballerina into the air. But things have changed. Top male dancers have fan bases that rival those enjoyed by the best ballerinas. And choreography is starting to reflect masculinity in different ways. It is becoming more fluid, mirroring our changing perception of what it is to be man outside in the wider world.
Russian Vadim Muntagirov is considered by many to be the best dancer in the world today. He tends to open most classical ballets (Nutcracker, Sleeping Beauty, Swan Lake) at the Royal Opera house alongside his world-renowned dance partner, Marianela Nuñez. Matthew Ball, from Liverpool, is a younger principal who has a super fan attend his every performance and even give him notes on how many mistakes he made during the show!
Steven McRae has the biggest following on Instagram but tends to post more these days about his rehabilitation routine than his dancing, since he is coming back from two serious injuries. And then there is Ed Watson who has been at the top of his profession for many years but now, at the age of 42, is contemplating retirement.
We might assume ballet is a genteel, middle-class art form but some of the dancers at the Opera House dismantle this stereotype with personal stories that some viewers might finding surprising, such as that of Marcelino Sambé and Joseph Sissens, who both overcame considerable hardship before arriving in Covent Garden.
Nearly all the dancers Macer talks to share one main inspiration - Rudolf Nureyev. It was not just the Russian's ability on the stage that struck such a chord with them, but also the aura he created, which transcended ballet and came to represent a new kind of machismo.
What we learn is that male ballet is incredibly competitive, just as it is for the women, with dancers pushing themselves towards a goal of perfection that, rather like utopia, remains always just out of reach. But for the men, there is often an added obstacle on their journey to success, the notion that society still sees ballet primarily as a female activity. So, for our golden generation, they have had to swim against the tide in a way their sisters have not. Perhaps, as Macer discovers, that is why these young men describe their occupation as a 'calling'.
Music Played
Timings (where shown) are from the start of the programme in hours and minutes
00:35

Alexander Baillie, Bbc Philharmonic Orchestra: Downes

Elgar: Cello Concerto No 5 In E Minor: 1St Movement, Adagio / Moderato

00:35

Li - Wei Cello, Adelaide Symphony Orchestra, Nicholas Braithwaite Conductor

Cello Concerto In E Minor, Op. 85

00:50

Saint Louis Symphony Orchestra, Leonard Slatkin

The Sleeping Beauty Ballet: No. 8: Pas D'action: A. Adagio

00:50

Slovak State Philharmonic Orchestra

The Sleeping Beauty, Op. 66, Act I: Pas D'action: Adagio, "Rose Adagio"

00:50

Philharmonia Orchestra London, Alfred Scholz

Sleeping Beauty Suite Op 66: II

00:58

The Qemists

Fall From The Sky
Credits
| Role | Contributor |
| --- | --- |
| Interviewed Guest | Alexander Agadzhanov |
| Interviewed Guest | Denilson Almeida |
| Interviewed Guest | Gary Avis |
| Interviewed Guest | Matthew Ball |
| Interviewed Guest | William Bracewell |
| Interviewed Guest | Alexander Campbell |
| Interviewed Guest | Christopher Carr |
| Executive Producer | Nick Kent |
| Director | Richard Macer |
| Production Company | Oxford Films |
Featured in...
Exhilarating performances and fascinating stories from contemporary and classical dance.

Exhilarating performances and fascinating stories from contemporary and classical dance.