Main content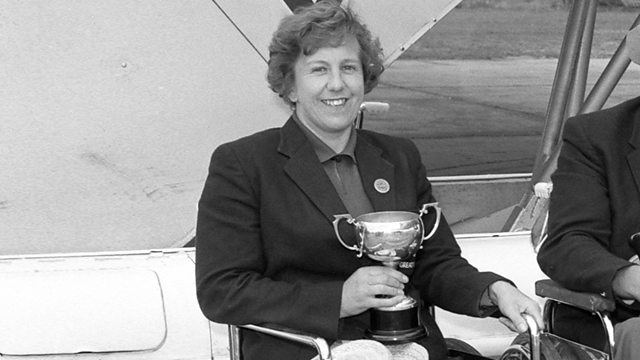 Margaret Maughan, John Cumming OBE, Jerry Givens, John Langdon, Eric Weissberg
Julian Worricker on paralympian Margaret Maughan, jazz promoter John Cumming, death penalty abolitionist Jerry Givens, comedy writer John Langdon.
Pictured: Margaret Maughan
Julian Worricker on Britain's first Paralympic gold medallist, Margaret Maughan; Tanni Grey-Thompson compares the games of 1960 and now….
The music promoter and producer, John Cumming, co-founder of the London Jazz Festival….
Jerry Givens, once a state executioner….but then a leading campaigner in the United States for the abolition of the death penalty….
And the comedy writer, John Langdon; his friend and colleague Rory Bremner, recalls some of his best lines….
Interviewed guest: Baroness Tanni Grey-Thompson DBE
Interviewed guest: Peter White
Interviewed guest: Nod Knowles
Interviewed guest: Abraham Bonowitz
Interviewed guest: Rory Bremner
Producer: Neil George
Archive clips from: Rome Olympics 1960, Pathe News; No Triumph, No Tragedy, Radio 4 29/04/2013; Cerys on 6, 6 Music 05/11/2017; John Cumming interview, Jazz FM 17/11/2013; Former executioner opposes death penalty, Washington Post 11/02/2013; Week Ending, Radio 4 21/03/1980; Two Decades of Week Ending, Radio 4 07/09/1990; The News Quiz, Radio 4 03/09/1994; Bremner, Bird and Fortune: Silly Money, Vera Productions Ltd / Channel 4 02/11/2008.
Last on

Margaret Maughan
Born 19 June 1928; died 20 May 2020, aged 91.
Last Word spoke to former wheelchair racer Baroness Tanni Grey-Thompson DBE, and Peter White, the BBC's Disability Affairs Specialist.
John Cumming OBE
Born 30 September 1948; died 17 May 2020, aged 71.
Last Word spoke to his friend, fellow Jazz enthusiast Nod Knowles.
Jerry Givens
Born 3 December 1952; died 13 April 2020, aged 67.
Last Word spoke to Abraham Bonowitz, Co-Director of Death Penalty Action.
John Langdon
Born 15 December 1947; died 23 March 2020, aged 72.
Last Word spoke to impressionist Rory Bremner.
Eric Weissberg
Born 16 August 1939; died 22 March 2020, aged 80.
Broadcasts