Main content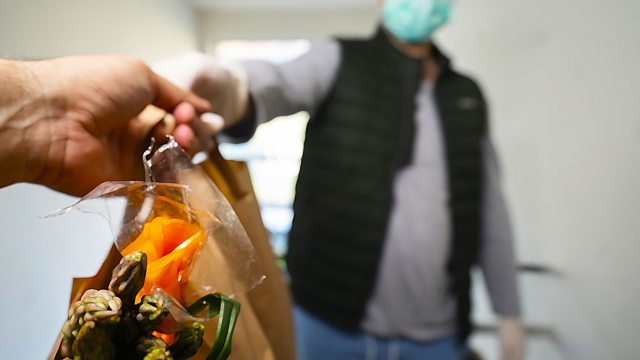 Personal Shopper
When Max, 15, offers to shop for Nina, who's self-isolating with her husband Frank, an unexpected friendship blossoms - which, in turn, puts their marriage back on track.
A topical drama about how living in enforced isolation can lead to the forging of new relationships, and to the revitalisation of old ones.
It starts with a skinny slip of paper posted through Nina's letter box:
Dear Neighbour. My name is Max. I am almost 15 years old and I live at number 76 of this road. My school has been shut and I am free to do shopping for anyone who needs it. Just ring me on the number below.
Nina's first instinct is to bin the note. She's not hugely bothered about the neighbours. The younger people who've moved onto the street in recent years are very different from her. They're smarter, richer. They have well-spoken kids with names like Max.
But life is tricky in isolation. Nina's husband Frank is ill. Maybe it's the virus, maybe's it's just a bad cold, they can't really tell.
Nina knows the rule is that she must stay indoors. And they don't have anyone else. So Nina gives Max a call. The next day, he leaves a first bag of shopping outside her hall door.
Told through phone calls and an audio diary that Nina is updating daily, the drama follows the relationship that develops between Max and Nina through the first weeks of enforced isolation.
As the story unfolds, we come to realise that Nina is making the audio diary for a particular, special person.
CAST
Nina .......... Monica Dolan
Frank ........ Phil Davis
Max .......... Tom Glenister
Sarah ....... Jane Slavin
Written by Hugh Costello
Produced and Directed by Eoin O'Callaghan
A Big Fish Radio production for BBC Radio 4
Last on