Main content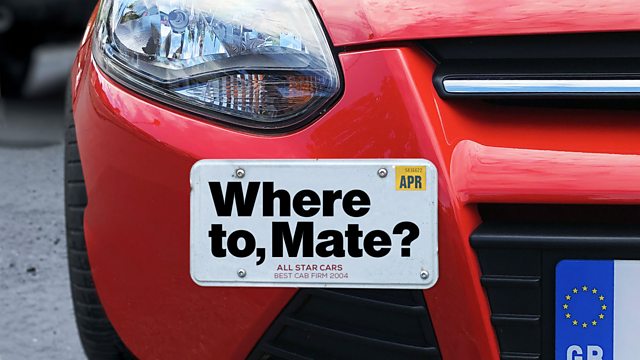 "…oestrogen in the water…"
New comedy set in Manchester where we eavesdrop on taxi drivers as they ferry their passengers around the North West.
"…oestrogen in the water…"
Set and recorded on location in a car in Manchester, 'Where To, Mate?' is a semi-improvised comedy following our drivers as we eavesdrop on their taxi journeys around the North West.
This week we join our drivers on the night shift.
Ben is dealing with a conspiracy theorist. Bernie discusses her life before being a taxi driver, with Milton, and Rizwan is having the time of his life taking a couple of lively ladies home from a night on the town.
Jason Wingard is a writer, director and film maker from Manchester. He's written and directed a number of award winning short films as well as the feature film 'Eaten By Lions' which recently had a cinema release.
The show features local voices and character actors /comedians from the North.
CAST
Ben ..... Peter Slater
Bernie ..... Jo Enright
Rizwan …. Irfan Nazir
Milton ..... Christopher J Hall
Conspiracy theorist …. Jeff Downs
Thelma …. Dylan Morris
Louise …. Elinor Coleman
Controller ..... Jason Wingard
Controller ..... Abdullah Afzal
Conversations improvised by the cast based on ideas by Jason Wingard and Carl Cooper.
With additional material and production support by Hannah Stevenson.
Additional voices and material by the cast and crew.
Production Co-ordinator, Mabel Wright
Directed by Jason Wingard
Produced by Carl Cooper
A BBC Studios Audio Production
Last on

Broadcast