Main content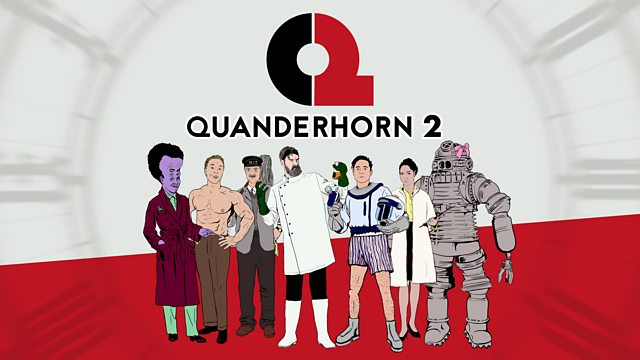 5. Am I Actually the Other Half of Gemma Emma Emma?
Mars invades! Tripods stalk the streets of London, the BBC becomes the Martian Broadcasting Corporation, and … hail Mars!
Thanks to unspeakable treachery among the team, the Martians capture Quanderhorn's (James Fleet) weapon-melting ray and activate it, leaving the Earth defenceless to the Invasion Fleet.
Captured and chained, Brian (Ryan Sampson) Gemma (Cassie Layton) Jenkins (John Sessions) and Troy (Freddie Fox) find themselves the quarry in a brutal hunt.
The Professor and Diving Suit Dolores (Rachel Atkins) try to reason with Prime Minister-in-exile, Churchill (John Sessions. Again), but are thrown in prison, pending trial for treason.
The crew flee to London to hook up with the Resistance Movement, but can't find it. They have no idea what to do, until a very unusual request song is played on the radio.
Starring
James Fleet as Professor Quanderhorn
Ryan Sampson as Brian Nylon
Cassie Layton as Dr Gemini Janussen
Freddie Fox as Troy Quanderhorn
Kevin Eldon as Guuuurk
John Sessions as Sergeant 'Jenkins' Jenkins and Churchill
Rachel Atkins as Delores
Created and Written by Rob Grant and Andrew Marshall
Directed by Andrew Marshall
Studio Engineer and Editor: Alisdair McGregor
Production Manager: Sarah Tombling
Special Thanks to Edward Rowett
Recorded at The Soundhouse Studios
Produced by Rob Grant and Gordon Kennedy
An Absolutely production for BBC Radio 4
Last on

Broadcasts