Main content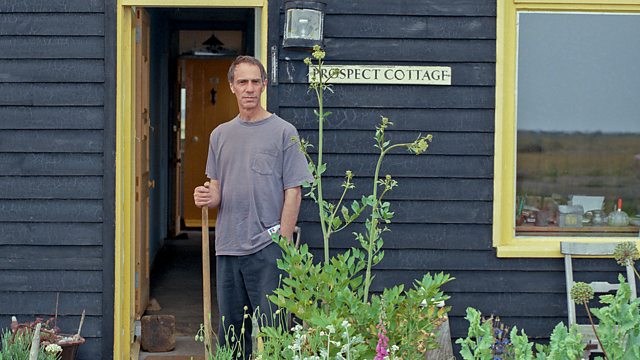 Derek Jarman's Garden
With music from Stravinsky and the Pet Shop Boys, and readings from Derek Jarman's journals, Olivia Laing and TS Eliot, conjuring up the spirit of Prospect Cottage in Dungeness.
Tilda Swinton and Samuel Barnett are the readers in an episode inspired by the saving of the beachside home of film-maker, painter and writer Derek Jarman following a crowd-funding campaign. Jarman (1942-1994) purchased Prospect Cottage on the shingle shore at Dungeness in 1986 following his diagnosis as being HIV positive and it formed the backdrop for his 1990 film The Garden. This was one of 11 feature films he directed including Caravaggio, The Tempest, The Last of England and Blue - which Radio 3 collaborated on with Channel 4 when that premiered in 1993.
Today's Words and Music brings you music referenced in Jarman's writing and films, from Stravinsky's the Rite of Spring to pop songs by the Pet Shop Boys and Annie Lennox which Jarman directed the videos for. Tilda Swinton reads words from Jarman's books Modern Nature, Chroma, and At Your Own Risk, a moving history of homosexuality in the UK, and Samuel Barnett reads poetry including John Donne's The Sun Rising which is inscribed on the wall of Prospect Cottage.
You can read a news story about the saving of Prospect Cottage and see images of it here https://www.bbc.co.uk/news/uk-england-kent-52120409
Producer: Nick Taylor
Readings:
Modern Nature - Derek Jarman
At Your Own Risk - Derek Jarman
Chroma - Derek Jarman
Funny Weather: Derek Jarman's Paradise - Olivia Laing
The Sun Rising - John Donne
Metamorphoses - Ovid (trans. Henry Thomas Riley)
Sonnet 126 - William Shakespeare
Conversations with Angels - John Dee
The Garden of Love - William Blake
The Hollow Men (extract) - T.S. Eliot
Remarks on Colour - Ludwig Wittgenstein (trans. Linda L. McAlister)
Ancient Arabic poem - At-Taliq (trans. A. R. Nykl)
Last on
New Generation Thinker Diarmuid Hester reflects on saving Jarman's house and garden.
Music Played
Timings (where shown) are from the start of the programme in hours and minutes
00:01

Brian Eno

A Clearing

Performer: Brian Eno.

Derek Jarman

Modern Nature, read by Derek Jarman

Derek Jarman

Modern Nature, read by Tilda Swinton

00:03

Johannes Brahms

Symphony no. 1 in C minor Op.68: 3rd mvt; Un poco allegretto e grazioso

Conductor: Riccardo Chailly. Orchestrator: Gewandhausorchester Leipzig.

Olivia Laing

Funny Weather, read by Samuel Barnett

John Donne

The Sun Rising (extract), read by Samuel Barnett

00:08

Carlo Gesualdo

Io parto, e non più dissi

Ensemble: Delitiæ Musicæ. Conductor: Marco Longhini.

00:12

Brian Eno

Unfamiliar Wind

Performer: Brian Eno.

Derek Jarman

Modern Nature, read by Tilda Swinton

00:13

Geraldine Mucha

The Tempest - overture for orchestra

Orchestra: Hradec Králové Philharmonic Orchestra. Conductor: Andreas Sebastian Weiser.

ARCO DIVA UP 01922231.
Tr1.

Ovid, trans. Henry Thomas Riley

Metamorphosen (book XI – extract), read by Samuel Barnett

00:19

Dmitry Shostakovich

Prelude and fugue for piano no. 11 (Op.87'11) in B major

Performer: Alexander Melnikov.

HARMONIA MUNDI HMC90201920.
Tr21.

00:23

Jean Sibelius

Belshazzar's Feast Suite, Op. 51 – iii Nocturne

Performer: Norbert Blum. Performer: Michael Cox. Performer: James Burke. Orchestra: BBC Symphony Orchestra. Conductor: Sakari Oramo.

Derek Jarman

Modern Nature, read by Tilda Swinton

00:25

Jean Sibelius

Nocturne, Op.51 No.3 (Belshazzar's Feast)

Music Arranger: Michael Press. Performer: Jascha Heifetz. Performer: Brooks Smith.

William Shakespeare

Sonnet 126, read by Samuel Barnett

00:29

Nico

My Funny Valentine

Performer: Nico.

Beggars Banquet BEG 139.
Tr1.

Derek Jarman

Modern Nature, read by Tilda Swinton

00:33

Igor Stravinsky

The Rite of Spring, Part 2: Sacrificial Dance

Orchestra: Atlanta Symphony Orchestra. Conductor: Yoel Levi.

BERLIN CLASSICS 0021632BC.
Tr1.

Derek Jarman

Modern Nature, read by Tilda Swinton

00:38

Donna McKevitt

Translucence (A Song Cycle) – v "I Sit Here Immobile"

Librettist: Derek Jarman. Performer: Donna McKevitt. Performer: Michael Chance. Performer: Melanie Pappenheim. Performer: Kelly McCusker.

William Blake

The Garden of Love, read by Samuel Barnett

00:40

Hubert Parry

Jerusalem

Performer: Suzi Pinns.

Derek Jarman

At Your Own Risk, read by Tilda Swinton

John Dee

Conversations with Angels, read by Samuel Barnett

00:44

Tomaso Giovanni Albinoni

Concerto a 5 for 2 oboes and strings (Op.9`12) in D major, 1st movement; Allegro

Ensemble: Academy of Ancient Music. Conductor: Christopher Hogwood.

Olivia Laing

Funny Weather, read by Samuel Barnett

Derek Jarman

Dear God, read by Samuel Barnett and Tilda Swinton

00:47

Pet Shop Boys

It's a Sin

Performer: Pet Shop Boys.

Derek Jarman

At Your Own Risk, read by Samuel Barnett and Tilda Swinton

00:52

Camille Saint‐Saëns

Romance (Op.36) arr. for horn(or cello) & piano [orig. with orchestra]

Performer: Kathryn Stott. Performer: Christian Poltéra.

00:55

Simon Fisher Turner

Blue Gong

Performer: Simon Fisher Turner.

Ludwig Wittgenstein trans. Linda L. McAlister

Remarks on Colour, read by Samuel Barnett

Derek Jarman

Chroma, read by Tilda Swinton

00:57

Billie Holiday

Blue Moon

Performer: Billie Holiday.

PAN AM RECORDS 9152262.
Tr3.

01:00

Johann Sebastian Bach

Sonata for violin solo no. 2 (BWV.1003) in A minor, Grave

Performer: Viktoria Mullova (violin).

T.S. Eliot

The Hollow Men (extract), read by Samuel Barnett

01:02

John Adams

Shaker Loops (A final Shaking)

Orchestra: London Chamber Orchestra. Conductor: Christopher Warren‐Green.

01:05

Derek Jarman / Donna McKevitt

Translucence (A Song Cycle) – 16. Prelude

Performer: Caroline Dale (cello).

Instant Karma ?Dharma cd5.
Tr16.

At-Taliq, trans. A. R. Nykl

Ancient Arabic poem, read by Samuel Barnett

Derek Jarman

Modern Nature, read by Tilda Swinton

Derek Jarman

At Your Own Risk, read by Tilda Swinton

01:09

Cole Porter

Ev'ry Time We Say Goodbye

Performer: Annie Lennox.

Chrysalis ?CDP 3217992.
Tr10.

Broadcast