Main content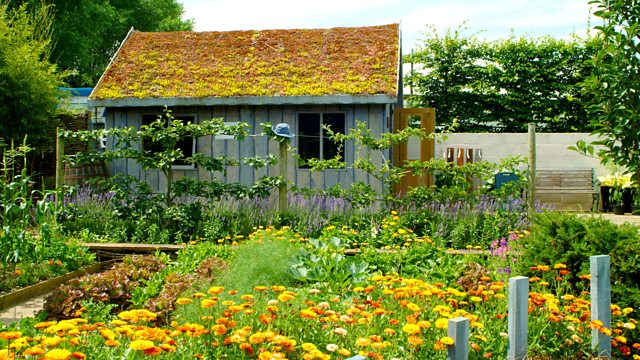 GQT At Home: Episode Eight
Peter Gibbs hosts the horticultural panel show from home.
Peter Gibbs hosts the horticultural panel show. He is joined from their own homes by James Wong, Anne Swithinbank and Chris Beardshaw.
This week, the panel takes a virtual wander around the Chelsea garden show, and answers questions on Chelsea favourite, Alliums, how to know if a potato is ready to be picked, and perennial suggestions for a sloping bank. The team also discusses memorable Chelsea plants from across the years.
Aside from the questions, Matt Biggs has a potted history of the Chelsea Flower Show and Peter Gibbs chats to RHS Director General, Sue Biggs about this year's show.
Producer: Laurence Bassett
Assistant Producer: Rosie Merotra
A Somethin' Else production for BBC Radio 4
Last on

Plant List
Questions and timecodes are below. Where applicable, plant names have been provided.
Q – I'm having a baby soon and also 16m (52ft) of mixed borders which are bursting into life – is there anything we can do now to minimise maintenance for the next few months and ensure everything is blooming in the summer?
(2 minutes 50 seconds)
Q – How can you tell when potatoes are ready to dig up?
(5 minutes 34 seconds)
Q – Please can you identify this plant I saw at Wallington Hall.
(7 minutes 56 seconds)
Anne – Thalictrum aquilegiifolium (Meadow-rue)
Q – Could you give me some perennial planting suggestions for a sloping earth bank of 4ft (1.2m) in permanent shade.
(9 minutes 36 seconds)
Chris – Bergenia 'Bressingham White'
Trachystemon orientalis
Dryopteris
Polystichum
James – Mind-your-own-business
Pachysandra
Galium
Vinca
Feature – History of The Chelsea Flower Show
(12 minutes 52 seconds)
Q – I love Alliums but mine never stay upright – can you help. I garden in clay soil.
(16 minutes 32 seconds)
Chris – Allium 'Summer Drummer'
Allium sphaerocephalon
Q – I'm worried my Alliums have Allium Stripe virus – what can I do?
(18 minutes 27 seconds)
Q – Which plants are most memorable (both positive and negative) for the panel from Chelsea Flower Shows gone by?
(20 minutes 7 seconds)
Chris – Lamium orvala
Anne – Carex
Ophiopogon
Q – Can the team suggest something I can plant against a wall that will give pleasure to the neighbour whose door opens out to it?
(23 minutes 33 seconds)
Chris – Pileostegia viburnoides
Lonicera 'Graham Thomas'
Anne – Robinia hispida
James – Jasmiium polyanthum
Jasminum sambac
Trachelospermum jasminoides
Campsis
Clianthus
Feature – Sue Biggs, Director General of RHS
(29 minutes 22 seconds)
Q – I have two Rhododendrons (loderi type) in pots which were beautifully in bloom until suddenly one day the flowers turned brown and wilted. The same thing happened to my container-grown Camellia, Hydrangea, Azaleas, Acers, Astilbe – what is going on?
(35 minutes 33 seconds)
Q – What are the panel's day jobs, and what do you do day-to-day?
(39 minutes 22 seconds)
Broadcasts