Main content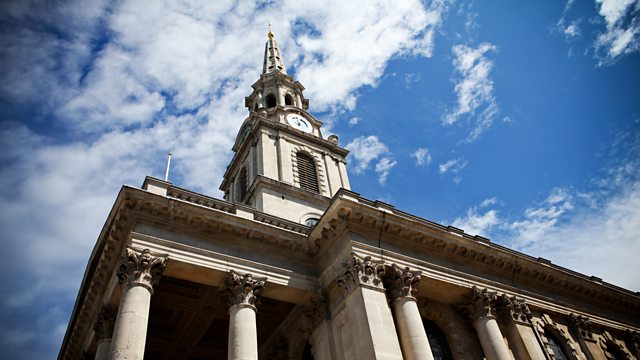 A Celebration for Ascension Day
A celebration for Ascension Day led by the Revd Dr Sam Wells and the Revd Marie-Elsa Bragg, with the BBC Philharmonic Orchestra, The Daily Service Singers and St Martin's Voices.
Every year Radio 4 listeners fill the pews of St Martin-in-the-Fields for Radio 4's broadcast celebration of Ascension Day. But this year is different. As congregations gather remotely, this is a different kind of service constructed from contributions from people across the country recording from their own homes. It's a celebration but also a time to reflect on the present and find hope for the future.
Novelist and priest, the Revd Marie-Elsa Bragg offers a series of reflective meditations. She explores the fundamental place of physical touch in human experience and considers the nature of relationships built at a distance. She reflects on how people approach death, grief and despair, and provides a poetic vision of the future which acknowledges the triumphant power of love.
The service, led by the Vicar of St Martin-in-the-Fields, the Revd Dr Sam Wells, is a tapestry of words and music. It culminates in a new recording of Handel's Hallelujah Chorus featuring the BBC Philharmonic Orchestra and voices of Radio 4 listeners recorded from their own homes in lock-down around the country. This virtual choir experience allows singers to upload their own recordings singing with the BBC Philharmonic, to create a national choir created especially for this broadcast.
At a time when musicians cannot assemble, the BBC Philharmonic, the Daily Service Singers, St Martin's Voices and the Choral Scholars of St Martin-in-the-Fields are also brought together, recording remotely, to create unique versions of hymns and anthems for Ascension Day. The director of music is Andrew Earis, the organist is Graham Eccles and the hymns have been arranged by Darius Battiwalla. Additionally, songwriters, David and Yvonne Lyon have recorded music especially for the service, bringing a sense of tranquillity and reflection.
Producer: Katharine Longworth
Last on
A Celebration for Ascension Day
A Celebration for Ascension Day
Hymn:  Hail the Day that Sees Him Rise – LLANFAIR
Hail the day that sees him rise Alleluia!
Glorious to his native skies; Alleluia!
Christ, awhile to mortals given, Alleluia!
Enters now the highest heaven! Alleluia!
There the glorious triumph waits; Alleluia!
Lift your head, eternal gates! Alleluia!
Christ hath vanquished death and sin; Alleluia!
Take the King of glory in. Alleluia!
There we shall with thee remain, Alleluia!
Partners of thine endless reign; Alleluia!
There thy face unclouded see, Alleluia!
Find our heaven of heavens in thee. Alleluia!
Introduction:     The Revd Dr Sam Wells
Ascension is a day of mystery and glory. After agonising death, Jesus rose and appeared to his terrified disciples, and in word and gesture forgave them for their desertion and commissioned them to carry his words to all the world. Just as at Christmas we celebrate God's coming among us in human form, so at Ascension we mark God's departing from us, again in human form.
The hardest part of the Ascension to comprehend is that Jesus had finished his work among us. In the midst of the coronavirus, we are so aware of how much feels unfinished. So Ascension is a challenge to see the abundance of God amid the scarcity of our world, and to yearn for the promised Spirit to bring all creation to glory.
God so intimate and yet so distant,
so close and yet beyond our grasp:
in Christ you showed us your whole self,
merciful, humble, suffering, transforming.
In the midst of this global crisis,
show us your whole self,
that we like Christ may be swept up
into the mystery of your glory.
In the ascended Christ
in the power of the coming Spirit.
Amen.
The words of Psalm 24, about lifting up the gates to welcome the king of glory, have long been associated with the gates of heaven opening to receive the ascending Jesus. The most celebrated setting is that in Handel's Messiah.            
Music: Lift up Your Heads – G.F. Handel
BBC Philharmonic Orchestra
BBC Daily Service Singers
St Martin's Voices
The Choral Scholars of St Martin-in-the-Fields
Jesus' ascension marks the transition between Luke's gospel and Luke's second work, the Acts of the Apostles. Here in the first chapter of Acts we read of how Jesus said goodbye. It's read by Simon Russell Beale.
Reading:              Acts 1
Read by Simon Russell Beale
When the disciples had come together, they asked Jesus, 'Lord, is this the time when you will restore the kingdom to Israel?' He replied, 'It is not for you to know the times or periods that the Father has set by his own authority. But you will receive power when the Holy Spirit has come upon you; and you will be my witnesses in Jerusalem, in all Judea and Samaria, and to the ends of the earth.' When he had said this, as they were watching, he was lifted up, and a cloud took him out of their sight. While he was going and they were gazing up toward heaven, suddenly two men in white robes stood by them. They said, 'Men of Galilee, why do you stand looking up toward heaven? This Jesus, who has been taken up from you into heaven, will come in the same way as you saw him go into heaven.'     
First Meditation: Touch – The Revd Marie-Elsa Bragg
Since Easter this year, I have felt accompanied by Mary Magdalene who after the death of her beloved teacher, saw him again at the empty tomb but was immediately asked not to touch him.  She reminded me of the impact a hug has after absence, and my longing for it.
At times, I have also walked in doubt with Thomas, not allowed to visit those taken into intensive care or preside over a service in Church. Even my own brush with Covid 19 made me aware that if I felt the touch of Christ at all, it was by putting my finger into his wound, believing that he must be on the front line, ill, lonely, working all hours, unprotected, living with domestic violence, not knowing what the future holds.
But I have noticed, that like Mary and Thomas, I have had to look for a connection to people in different ways. Distant visiting behind masks has magnified our eye to eye contact and I have found that people who were have previously been too shy to catch my gaze have revealed a window to their soul. Friendly on screen calls have brought the gift of watching people in their home with the sounds of their kettle or children and once, when I was still in my Covid fevers, I fell asleep while my friends simply left their camera on. 
Hours alone are hard though and many of us have turned to memories. I expect Christ would have done the same when facing the crown of thorns or the nails in Calvary. He would have remembered Mary washing his feet with nard, meals shared with friends and disciples, his mother and father's arms and also the people he healed, the touch of bandages and broken hopes at the very moment they receive a blessing.
But pastoral work, teaching or therapy over a flat screen or phone has been a new challenge. It can feel inhuman and those on either side of the caring profession have struggled to make connection. But many have found that evoking our five senses has helped, not only on the call itself, but through the suggestion of activities such as taking time to wash our own feet and being truly caring about it. Christ being with us when we love ourselves.
And while leading the Eucharist, I ended up giving guided meditations exploring smell, taste, touch and sight alongside poetic liturgy and watched people lift their own bread and wine weeping at the intimacy of Mass in their home, Christ in their hands. A community of priesthood.
Lockdown has magnified our humanity and given a heightened sense of being part of one collective in which both compassion and inequality have been amplified.
Because recovery is so powerful, like our grand and great grandparents after the war, we have the chance to follow the hope of a new era. The problem with the using the metaphor of war is that it excludes, as there is right and wrong. Winners and losers. The Ascension takes us into a bigger inclusive frame. Nobody is without Christ's love. Rather than the old dualistic view of God above and us sinners below, the Ascension is the great pervader, the leveller, it affirms Christ as ever present. It rises above the idea of battle and instead chooses the paradigm of compassion. Of only ever acting for the outcome of equality, connectedness and peace.
When we look back at previous wars, plagues, disasters and famines which have brought down class systems or feudal rule, rebuilt sanitation and provided welfare for all -the only question we have at our feet is- can we resist the temptation to return to cynicism, and each in our own way, do whatever it takes to build lasting legacy we can be proud of.    
Music:                  Psalm 23  – David and Yvonne Lyon 
Confession:        The Revd Dr Sam Wells
God of glory, like our tender shepherd you have led us into green pastures. But we have made that abundance into scarcity. Meet us in our fear and expand our imagination to encompass your kingdom. Lord have mercy.
God of plenty, like a shepherd you have led us by still waters. But we have turned our back on those who are thirsty for drink, for hope, for trust. Visit us in our cruelty and make our souls grow as large as your love. Christ have mercy.
God of steadfastness, like a shepherd you have been with us in the valley of the shadow of death. But we have denied, betrayed or forgotten you. Embrace us in our self-destructive ways, lift us on your shoulders and bring us home. Lord have mercy.
Almighty God, who forgives all who truly repent, have mercy upon you, pardon and deliver you from all your sins, confirm and strengthen you in all goodness, and keep you in life eternal. Through Jesus Christ our ascended Lord.
Amen.  
Music: Saint Richard's Prayer - Joanna Forbes L'Estrange 
Song of Lament: The Revd Dr Sam Wells
Lament is a prayer in which we set the glory of God side-by-side with our own agony, and call upon God to close the gap.
I cannot tell why grief and sadness linger
Why jobs are lost, and people face despair;
When this will end, if vaccines come and rescue,
Why isolation stalks the earth again.
But this I know, Christ feels the hurt upon the cross;
The Spirit weaves our lives together still.
And some glad day, through Providence, the Father
May turn this wave of loss to glory by his will.
I cannot tell how long this time of fear will last
If there'll be months, or years of damaged lives;
When once again we'll gladly throng together,
To sit and laugh, to dance and play and kiss.
But this I know, we're finding things both good and true
About our God, each other and ourselves.
So after this we'll know we've met our darkest hour
And now there's nothing we will have to face alone.
Second Meditation: Grief – The Revd Marie Elsa-Bragg
Recently we have changed our language for the time after death. We've put aside the destinations of purgatory, hell and heaven, often feeling that they carry a harsh theology or that they don't happen as an end result but surround us all the time. Being left without language can sometimes mean the very human state of not knowing is empty rather than companioned. Some people have begun to use the more abstract term of 'afterlife.' It can feel free of a fixed doctrine and allow a sense of sharing ideas. The problem with the word 'afterlife' is that it can point us away from what the Ascension shows- that life itself, the very spark of our souls is what is consistently present with or without our bodies.  If we use after-life, then we must also use before-life and in-life.
Old language and tradition do carry the weight of history, but without that weight we would be in danger of forgetting the mistakes to learn from as well as the gifts especially the sense of connecting to our ancestors and what they've passed on from their experience.
Grief is a natural part of life. It can come for many reasons. The loss of someone we love, our health, home, livelihood, a closely held view of life or we can feel it when facing our own death
In the 20th Century, Swiss-American psychiatrist Elisabeth Kubler Ross was strongly involved with the hospice movement. In her book 'On Death and Dying' she wrote : "Should you shield the canyons from the windstorms you would never see the true beauty of their carvings." By that she meant that it's possible to find grace on the other side of grief.
There is no doubt it is hard. Most of us block out memories because they are too painful, and when we live for years with long-term grief, we often shut part of ourselves down which can be harmful. If we do face it, we can make the mistake of thinking that to be healed is to return to the peace or innocence we had before the tragedy.  The Ascension shows us that healing is inclusive of all things not an attempt to escape them. We can be whole again but never the same. And when we have the birds eye view given in the Ascension, we are finally able see the carvings in the Grand Canyon, we also find that it is the consuming grip of our sorrow we leave behind, not the person.
In her work, Elisabeth Kubler Ross noticed 5 stages of grief: denial, anger, bargaining, depression and acceptance. With a thread of hope running through them all. Of course, like the Ascension, these stages don't always come in linear order. Some people I have worked with even felt that they passed through a stage before they were diagnosed while others add more stages. It's a gift to be aware that there is a natural process. But the grace comes from sitting lantern-like next to someone who is dying or grieving. Each of our lanterns lit from the ascension, supporting our trust that at this sacred time, the great garment of their soul is being drawn into the divine and infused with a timeless compassion. 
Music:                  These Tears – David and Yvonne Lyon
It is a beauteous evening – William Wordsworth
Read by Simon Russell Beale
It is a beauteous evening, calm and free,
The holy time is quiet as a Nun
Breathless with adoration; the broad sun
Is sinking down in its tranquility;
The gentleness of heaven broods o'er the Sea;
Listen! the mighty Being is awake,
And doth with his eternal motion make
A sound like thunder—everlastingly.
Dear child! dear Girl! that walkest with me here,
If thou appear untouched by solemn thought,
Thy nature is not therefore less divine:
Thou liest in Abraham's bosom all the year;
And worshipp'st at the Temple's inner shrine,
God being with thee when we know it not.        
Third Meditation:            Nature – The Revd Marie-Elsa Bragg
Wanting to sit with Jesus on the shore of Galilee has been a large part of my lockdown. Craving to be in nature – a park, the fells or by the sea. I imagine Jesus taking in the air before dawn and sitting in silent commune as the birds begin their chorus. So in tune with creation he can summon fish. And in that peaceful place, by a small fire he has built and with the view of lake and mountains in front of us I imagine him asking me if I love him, knowing the question is only asked of the beloved. But when he asks me a third time, I feel aware that the birds and fish will now be less than in his day, the water will have plastics and possibly harmful chemicals and the repetition of his question ' do you love me,' seems to ask if I love creation and how the choices I make live honestly with that.
His Ascension took place in an Olive grove, high above the Temple. Old trees, which were in his day, and still are, a symbol of peace and life after floods. I remember an old tale that there was such light from his Ascension, all the Olive trees immediately bore fruit. Not as an affirmation that Jesus had gone far away to Eden but because in the moment of Ascension all life is bound together. Creation is re-affirmed as sacred. As Wordsworth would say, 'the mighty being is awake'.
Wordsworth was of course writing on the cusp of the industrial revolution. The baseline of what we now call our 'global emissions'. He wrote fervently against people being separated from nature and crammed into mills and factories. He said that we were losing an intimate relationship with land as the great nurturer and companion and if people no longer lived so    intimately with nature, we would also lose the generations of local knowledge of what each eco system needs.
There is a big difference between leading nature as an object for commerce, offsetting our carbon footprint with new trees in the hope we might keep growing our economy and Stewardship which asks us to care for and protect nature listening closely to its needs as a good shepherd. 
However, here is also a difference between Stewardship and family. Karl Jung talks about everything, trees, birds, humans having a soul.
If the Ascension joins this conversation in any way it affirms Christ in all creation and calls us to jump out of our mechanistic or leadership view and participate in what has already been given. Redemption is about re-claiming the deepest truth of who we are, all created by God, and daring to make our precious choices based on the honour of that truth.
I know many of us are afraid of what we are doing to our climate and ecosystem but fear is not enough. We must find the courage to ask what drives the addiction to more and our need to conquer, why we are burning the planet's fossil fuels and laying waste to ancient ecosystems, one after the other. Do we feel powerless? Self condemning? Are we looking for God? Are we looking to play God? But if we find the courage to face our darkness, then the strong way forward can't come from greed or fear - like the pervasive grace of the Ascension, it must come from a deep and unifying healing, a paradigm shift that brings us home to this incredible gift of life can only come from love.  
Music:                  I Give you a New Commandment – Peter Aston
Prayers:               Read by Siku and the Revd Canon Ann Easter
Embodied God, in Jesus you touched us, held us, heard us, saw us, spoke to us. Visit by your Holy Spirit those who find themselves isolated and have no one to hold, hear or see them. Teach us to touch in ways that speak of your mystery, glory and grace. Bless all in professions where touch today is vital but dangerous. Make us a community of priesthood, which sees beyond the things we touch to the greater wonder of your presence among us.
Creative God, in Jesus you met us on the lake shore and in an olive grove. Show your children how land may once again be our nurturer and companion. Bless those who participate, that they may know when comes the moment to lead, and those who lead, that they may know when to listen, wait, and learn. Make this time of lockdown a season of transformation in your people's relationship with your creation, that among all the sadness, grief and powerlessness, we may look back and say, one good thing happened then.
Resurrecting God, you do not shield the canyons from the windstorms lest we never see the true beauty of their carvings. Be close to any who have said painful goodbyes, that they may find grace on the other side of their grief. Light a lantern in your son's ascension that enables all who are dying to trust they are being drawn into a timeless compassion. Show each one of us a healing that includes rather than escapes. And make us a people of hope.
Ascending God, as your son was taken up his disciples knew a profound feeling of abandonment. By your Holy Spirit evoke in us encounters with your mystery and your glory, that we can discover your world suffused with your presence. Lift up our hearts, that whatever our circumstance, we can lift it up to you. 
The Lord's Prayer 
Hymn:                  Love Divine - BLAENWERN
Love divine, all loves excelling,
Joy of heaven to earth come down,
Fix in us thy humble dwelling,
All thy faithful mercies crown.
Jesu, thou art all compassion,
Pure, unbounded love thou art;
Visit us with thy salvation,
Enter every trembling heart.
Come almighty to deliver,
Let us all thy life receive;
Suddenly return and never,
Never more thy temples leave.
Thee we would be always blessing,
Serve thee as thy hosts above,
Pray, and praise thee without ceasing,
Glory in thy perfect love.
Finish then thy new creation,
Pure and spotless let us be;
Let us see thy great salvation,
Perfectly restored in thee;
Changed from glory into glory,
Till in heaven we take our place,
Till we cast our crowns before thee,
Lost in wonder, love and Praise.
The Revd Dr Sam Wells
Jesus' ascension is anticipated in the Old Testament by the ascension of the prophet Elijah. The resonant passage in 2 Kings 2 brings out his successor Elisha's profound grief at losing his mentor, and his deep anxiety about being able to follow in his steps – both of which are just as present in the story of Jesus' ascension. Grief and anxiety pervade our lives in the face of the virus, also.   
Reading: 2 Kings 2
Read by Simon Russell Beale 
Elijah said to Elisha, 'Stay here; for the Lord has sent me to the Jordan.' But he said, 'As the Lord lives, and as you yourself live, I will not leave you.' So the two of them went on. Fifty men of the company of prophets also went, and stood at some distance from them, as they both were standing by the Jordan. Then Elijah took his mantle and rolled it up, and struck the water; the water was parted to the one side and to the other, until the two of them crossed on dry ground.
When they had crossed, Elijah said to Elisha, 'Tell me what I may do for you, before I am taken from you.' Elisha said, 'Please let me inherit a double share of your spirit.' He responded, 'You have asked a hard thing; yet, if you see me as I am being taken from you, it will be granted you; if not, it will not.' As they continued walking and talking, a chariot of fire and horses of fire separated the two of them, and Elijah ascended in a whirlwind into heaven. Elisha kept watching and crying out, 'Father, father! The chariots of Israel and its horsemen!' But when he could no longer see him, he grasped his own clothes and tore them in two pieces. 
He picked up the mantle of Elijah that had fallen from him, and went back and stood on the bank of the Jordan. He took the mantle of Elijah that had fallen from him, and struck the water, saying, 'Where is the Lord, the God of Elijah?' When he had struck the water, the water was parted to the one side and to the other, and Elisha went over. When the company of prophets who were at Jericho saw him at a distance, they declared, 'The spirit of Elijah rests on Elisha.'
Fourth Meditation:         Love  - The Revd Marie-Elsa Bragg
In the small Lady Chapel at Walsingham, there is a sculpture of the ascension. It's surprising because in the very centre of the ceiling there is a ceramic cloud with the two wounded feet of Jesus dangling on their own showing the moment he disappeared.
It is so shockingly literal that I've found it easy to dismiss.
But when I have the humility to wait a little longer with the apostles, the reality of my beloved Jesus leaving can bring up all fears of being abandoned and his 33 years flash pass past all too quickly.
Two angels appear and remind the apostles that Jesus will return the same way he left and rather than understanding that message as describing a train track and therefore expecting him to appear feet first on the mount of olives at a certain date,  I realise that the manner of his departure into a cloud and the fact that the apostles are being told he will return by angels makes a mockery of my literalism. These unexpected mystical encounters are themselves the way he leaves and returns.
It is unusual to talk about spiritual experiences. The Ascension cloud and fiery chariot and horses have been dismissed by scientific minds so fervently that in my work, I have found that people feel alone, confused or embarrassed to disclose the spiritual experience they do have.
Karl Jung had a life long career in academia studying the psyche while quietly recording his own visions in a red book which were not published until after his death because he knew people were sceptical of such experiences. But they were the core of his work.
Over the years, I have found that ordinary people have all manner of experiences and are relieved to find just how normal they are.
Many years ago I sat with an old man who came over to England from Antigua just after the Windrush.  In hospital, just before he died, he sat up to the vision of a great ship. He was clearly on its bough heading into the winds on a journey into the unknown and told me St Paul was his companion.
Recently, I talked to a young woman who in her solitude, experienced being so connected with everyone in her local area that for a moment she could almost see their sitting room walls. It was as if they were in one large circle and then she heard the words 'one body in Christ'.
Once I met a nun who for many years of her younger life had lived with the stigmata in the centre of both her hands. They kept it quiet but she said that in those days, she had some unusual people wanting to meet her!
When I stand at the altar, above it, there is often a crucifix but sometimes Christ's arms have broken free and he is ascending.
This world we live in is made of far more than we can measure. At the Eucharist, we say 'Lift up our hearts, we lift them to God.' and then we raise the bread to be consecrated. In both these acts, the full presence of Christ in the ascension is both mysterious and remarkable in its companionship. In the Ascension, we are bound to Christ and lifted with him into eternal love.     
Hymn:  Crown Him with Many Crowns – DIADEMATA
BBC Daily Service Singers
St Martin's Voices
St Martins Choral Scholars
BBC Philharmonic Orchestra
Crown him with many crowns,
the Lamb upon his throne.
Hark! how the heavenly anthem drowns
all music but its own.
Awake, my soul, and sing
of him who died for thee,
and hail him as thy matchless king
through all eternity.
Crown him the Lord of life,
who triumphed o'er the grave,
and rose victorious in the strife
for those he came to save;
his glories now we sing
who died and rose on high,
who died eternal life to bring,
and lives that death may die.
Crown him the Lord of love;
behold his hands and side,
rich wounds, yet visible above,
in beauty glorified;
no angels in the sky
can fully bear that sight,
but downward bends their burning eye
at mysteries so bright.
Crown him the Lord of years,
the potentate of time,
creator of the rolling spheres,
ineffably sublime.
All hail, Redeemer, hail!
for thou hast died for me;
thy praise shall never, never fail
throughout eternity.
Blessing: The Revd Dr Sam Wells
Christ, our ascended King, pour upon you the abundance of his gifts and bring you to reign with him in glory; and the blessing of God, Father, Son and Holy Spirit  be among you and remain with you now and for ever.         
Music: The Hallelujah Chorus – G.F. Handel
Voices of hundreds of singers recording in lockdown
BBC Philharmonic Orchestra
Broadcast