Main content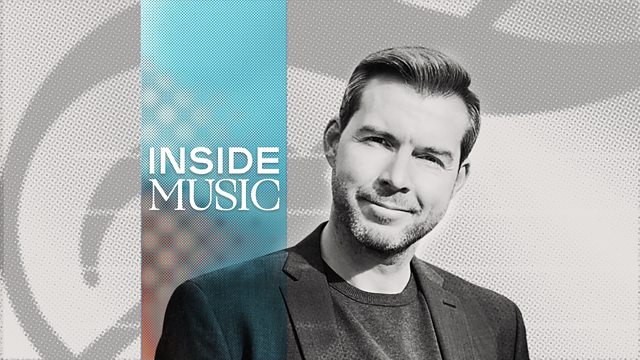 Musical springboards with pianist and composer Gwilym Simcock
Pianist and composer Gwilym Simcock opens up a colourful selection of music from the inside - revealing familiar and unfamiliar works in a new light.
Pianist and composer Gwilym Simcock demonstrates that music has no boundaries as he explores sounds ranging from suspended choral harmonies by Eric Whitacre and celestial spirals on the harp, to a rarely heard piano quartet by William Walton and three intriguing minutes from Argentinian composer Astor Piazzolla.
Plus two very different sides of JS Bach and an irresistible Russian waltz.
A series in which each week a musician reveals a selection of music - from the inside.
A Tandem Production for BBC Radio 3
Photo: Gregor Hohenberg
Last on
Music Played
Maurice Ravel

String Quartet - II - Assez vif

Ensemble: Jerusalem Quartet.

Aram Khachaturian

Masquerade Suite - I - Waltz

Orchestra: RCA Victor Symphony Orchestra. Conductor: Kirill Kondrashin.

Gwilym Simcock

Suite for percussion quintet - III

Performer: Gwilym Simcock. Ensemble: LSO Percussion Ensemble.

Johann Sebastian Bach

Violin Sonata No. 4 in C minor, BWV 1017 - IV - Allegro

Performer: Jaime Laredo. Performer: Glenn Gould.

Olivier Messiaen

O sacrum convivium!

Choir: Chorus of the National Academy of Santa Cecilia. Director: Myung-Whun Chung.

Nikolai Girshevich Kapustin

Ten Bagatelles - No. 7

Performer: Nikolai Girshevich Kapustin.

Ralph Vaughan Williams

Serenade to Music

Singer: Norma Burrowes. Singer: Sheila Armstrong. Singer: Susan Longfield. Singer: Marie Hayward. Singer: Alfreda Hodgson. Singer: Gloria Jennings. Singer: Shirley Minty. Singer: Meriel Dickinson. Singer: Ian Partridge. Singer: Bernard Dickerson. Singer: John Noble. Singer: Christopher Keyte. Singer: Wynford Evans. Singer: Richard Angas. Singer: John Carol Case. Singer: Kenneth Bowen. Orchestra: London Philharmonic Orchestra. Conductor: Adrian Boult.

Francis Poulenc

Cello Sonata - III - Ballabile

Performer: Anne Gastinel. Performer: Claire Désert.

Henri Dutilleux

Symphony No. 1 - IV - Finale, con variazioni

Orchestra: Orchestre de Paris. Conductor: Paavo Järvi.

Lauren Scott

Celestial Spirals

Performer: Lauren Scott.

Edvard Grieg

Piano Concerto, Op. 16 - II - Adagio

Performer: Ronan O'Hora. Orchestra: Royal Philharmonic Orchestra. Conductor: James Judd.

Astor Piazzolla

Tres minutos con la realidad

Ensemble: Die 12 Cellisten der Berliner Philharmoniker.

Johann Sebastian Bach

St John Passion, BWV 245 - "Herr, unser Herrscher"

Choir: Bavarian Radio Symphony Choir. Orchestra: Concerto Köln. Conductor: Peter Dijkstra.

Federico Mompou

Prelude VII (Palmier d'etoiles)

Performer: Arcadi Volodos.

Eric Whitacre

Sleep

Choir: Eric Whitacre Singers. Director: Eric Whitacre.

William Walton

Piano Quartet in D minor - IV

Ensemble: Frith Quartet.

Maurice Duruflé

Requiem - I - Introit

Choir: Choir of King's College, Cambridge. Orchestra: Orchestra of the Age of Enlightenment. Conductor: Stephen Cleobury.
Broadcast