Main content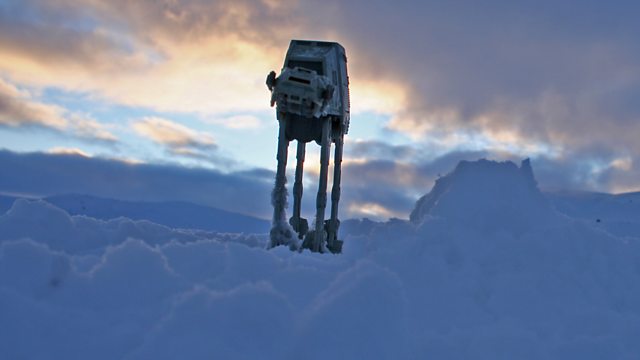 The Empire Strikes Back
40 years ago George Lucas risked all on The Empire Strikes Back. Mark Burman draws on rare archive and new interviews to tell the story of a classic space opera.
40 years ago George Lucas risked all on the creation of the first Star Wars sequel, The Empire Strikes Back. Or rather Episode V in what is now the middle trilogy of the Star Wars saga. On this the fate of the Star Wars universe rested. Having your first screen writer die on you whilst the ink had barely dried on the first draft was an inauspicious start. Then came fire and ice. Elstree studios endured conflagration as Stanley Kubrick's The Shining went up in smoke. The first weeks of filming in Norway (a.k.a. Hoth) were a white out and the film went over schedule & over budget,. But in May 1980 the world was treated to a space opera classic that for many remains the defining film of the Star Wars universe.
Mark Burman returns to a snowbound Finse, Norway to hear from some of the veteran crew, draws on his own archive of key personnel from director Irvin Kershner to the hands and face behind Yoda. Stuart Freeborn. Listen to this you must.
Featuring the voices of Dave Barclay,Christian Berrum, Jim Bloom, Leigh Brackett, Stuart Freeborn,Harrison Ford, Mark Hamill, Nilo Rodis Jamero,, Gary Kurtz, George Lucas ,Peter MacDonald, Frank Oz, Ken Ralston, Peter Suschitzsky, Phil Tippett, Robert Watts & John Williams.
Producer: Mark Burman
Last on
Broadcast