Main content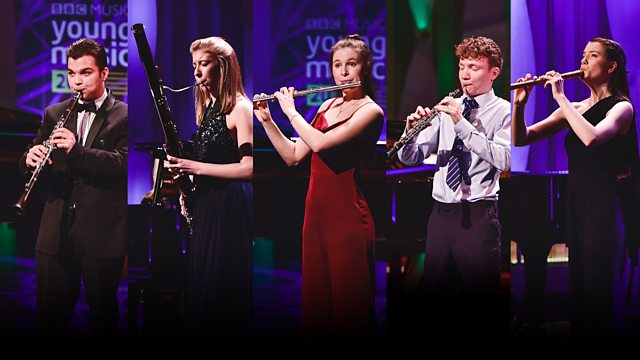 Woodwind Final Highlights
A flautist, clairinettist, oboist, recorder player and bassoonist complete for a place in the BBC Young Musician 2020 semi-final, performing music by Vivaldi, Tchaikovsky, Messiaen and Peter Facer.
Organist and conductor Anna Lapwood presents highlights of the second of the BBC Young Musician 2020 category finals, which sees five of the UK's best young performers compete for the woodwind title. The winner will take their place in one of the BBC Young Musician semi-final, which will be shown later in 2020 along with the grand final.
Joining Anna to review each of the performers is principal flautist with the Royal Scottish National Orchestra, Katherine Bryan, who is also in demand as a soloist.
The woodwind finalists are 16-year-old flautist Daisy Noton, 18-year-old clarinettist Marian Bozhidarov, Ewan Millar, who is also 18 and plays the oboe, recorder player Eliza Haskins, aged 16, and 18-year-old bassoonist Alice Gore. The repertoire performed includes works by Vivaldi, Tchaikovsky, Messiaen and contemporary British composer Peter Facer.
On the jury are two prominent British woodwind musicians. They are Amy Harman, principal bassoonist with the Aurora Orchestra and English National Opera and much in demand both as a soloist and as a chamber musician, and internationally acclaimed recorder player, Piers Adams, who has toured the world with leading orchestras as well as his baroque quartet Red Priest. They join the chair of all the BBC Young Musician 2020 category final judging panels, Angela Dixon. Angela is the chief executive of the award-winning performance venue, Saffron Hall.
Also in the programme, Jess Gillam, saxophonist, broadcaster and former BBC Young Musician finalist, continues her series of conversations with leading UK musicians. She speaks to oboist Nicholas Daniel, who won this competition back in 1980 and who, like Jess, is a passionate supporter of music in education.
Each of the category final concerts is also available to watch in full on the BBC iPlayer, presented by Josie d'Arby.