Main content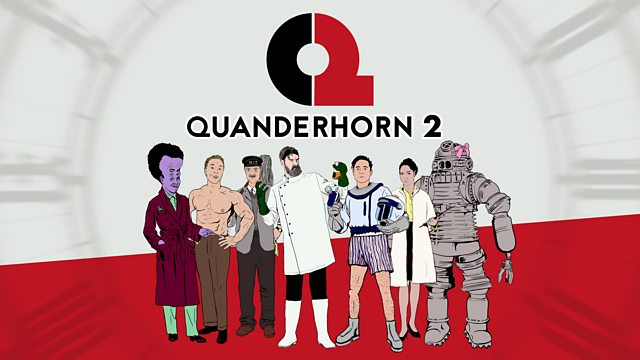 The crew return to the near past to prevent the bombs from eradicating reality. But can they avoid running into their previous selves? (Spoiler alert: no.)
Professor Quanderhorn (James Fleet) and his rag-tag crew – test pilot Brian Nylon (Ryan Sampson), clockwork-emotioned Dr Gemini Janussen (Cassie Layton), caddish Martian hostage Guuuurk (Kevin Eldon) and Quanderhorn's part-insectoid son Troy (Freddie Fox), along with factotum Jenkins (John Sessions) – travel back to the laboratory three weeks before the bombs are due to fall and wipe out reality.
The Professor has a plan, but to pull it off, the crew have to avoid their previous selves, who are, of course, also still there. If they fail, they could unravel their own timelines.
On top of which, they're desperate not to activate the annoying musical sheep. They must also evade the squirrilla, the gorirrel and, most of all, the deadly enraged Penguinelope!
Starring
James Fleet as Professor Quanderhorn
Ryan Sampson as Brian Nylon
Cassie Layton as Dr Gemini Janussen
Freddie Fox as Troy Quanderhorn
Kevin Eldon as Guuuurk
John Sessions as Sergeant 'Jenkins' Jenkins and Churchill
Rachel Atkins as Delores
Created and Written by Rob Grant and Andrew Marshall
Directed by Andrew Marshall
Studio Engineer and Editor: Alisdair McGregor
Production Manager: Sarah Tombling
Special Thanks to Edward Rowett
Recorded at The Soundhouse Studios
Produced by Rob Grant and Gordon Kennedy
An Absolutely production for BBC Radio 4
Last on
Broadcasts