Main content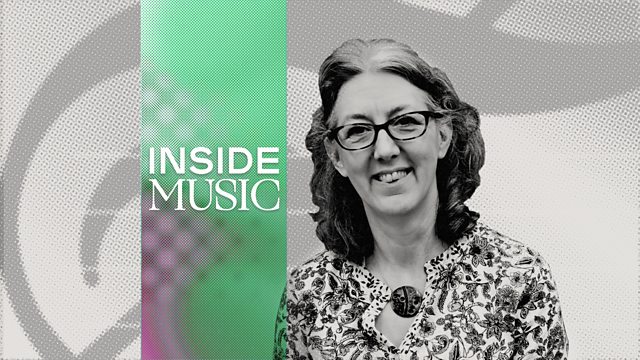 Inventive, quirky and joyous music with bass player Cecelia Bruggemeyer
Double bass player Cecelia Bruggemeyer opens up a colourful selection of music from the inside - revealing familiar and unfamiliar works in a new light.
Double bass player Cecelia Bruggemeyer specialises in playing early music, but in this week's edition of Inside Music, her choices range much further forward in time. How does William Walton's music illustrate the text in Belshazzar's Feast? What makes Britten's writing for the bassoon so extraordinary? And how does John Adams create trumpet "surround sound"?
There are also some irresistible, toe-tapping dances from one of the baroque period's most innovative composers, Jean-Féry Rebel, energetic rhythms and catchy tunes from Bartok's Dance Suite, and overwhelming sounds from Messiaen that remind Cecelia of a Mark Rothko painting.
A series in which each week a musician reveals a selection of music - from the inside.
A Tandem Production for BBC Radio 3
Last on
Music Played
Jean‐Féry Rebel

Le Charactères de la Dance

Orchestra: Harmony of Nations Baroque Orchestra. Director: Alfred Bernadini.

Béla Bartók

Dance Suite

Performer: Sir András Schiff.

Johannes Brahms

Herr, lehre doch mich from Requiem

Singer: Olaf Bär. Orchestra: London Classical Players. Conductor: Sir Roger Norrington.

Georg Philipp Telemann

Overture in F, TWV 55:11 - movements 3, 4 & 6

Ensemble: Collegium Musicum 90. Director: Simon Standage.

Olivier Messiaen

Et exspecto resurrectionem - 1st movement

Ensemble: Groupe Instrumental a Percussion de Strasbourg. Orchestra: Orchestre du Domaine Musical.

William Walton

Belshazzar's Feast - Praise Ye

Singer: Bryn Terfel. Orchestra: BBC Symphony Orchestra. Choir: BBC Symphony Chorus. Conductor: Andrew Davis.

Franz Schubert

Winterreise - III - Frozen tears

Performer: Christopher Glynn. Singer: Roderick Williams.

Robert Schumann

Symphony No. 3 in E flat, Op. 97 'Rhenish' - 1st mvt - Lebhaft

Orchestra: Deutsche Kammerphilharmonie Bremen. Conductor: Paavo Järvi.

Benjamin Britten

Nocturne for tenor, seven obbligato instruemnts and strings - Below the thunders of the upper deep

Performer: Sarah Burnett. Singer: Mark Padmore. Orchestra: Britten Sinfonia. Conductor: Jacqueline Shave.

Johann Sebastian Bach

Brandenburg Concerto No. 2

Performer: Robert Ehrlich. Performer: Katharina Spreckelsen. Performer: David Blackadder. Performer: Bojan Čičić. Orchestra: European Baroque Orchestra. Director: Trevor Pinnock.

John Adams

Tromba Lontana

Orchestra: San Francisco Symphony. Conductor: Edo de Waart.

Hector Berlioz

Benvenuto Cellini Act 1 Scene 13 - Venez, venez peuple de Rome

Orchestra: London Symphony Orchestra. Choir: London Symphony Chorus.

Franz Schubert

Piano Quintet 'Trout' - 4th mvt - Theme and variations

Ensemble: Schubert Ensemble.

Wolfgang Amadeus Mozart

Mass in C - Et incarnatus est

Singer: Sylvia McNair. Orchestra: Monteverdi Choir. Orchestra: English Baroque Soloists. Conductor: Sir John Eliot Gardiner.

Gwilym Simcock

Non-Schumann Lied

Performer: Gwilym Simcock. Performer: Yuri Goloubev.
Broadcast