Main content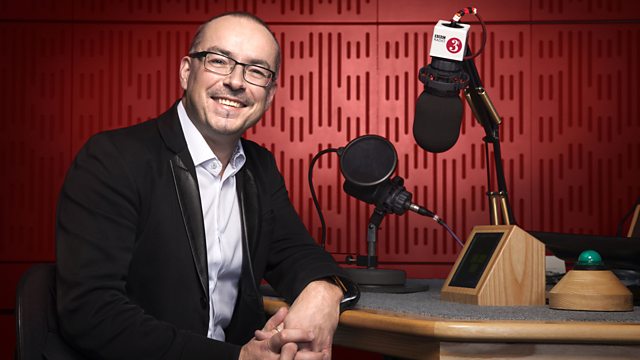 Delibes's opera Lakmé in Building a Library with Flora Willson and Andrew McGregor
A round-up of of the best new classical releases, and in Building a Library Flora Wilson recommends a recording of Delibes's opera Lakmé.
with Andrew McGregor
09.30
Building a Library
Another chance to hear Flora Wilson discussing her favourite recordings of Delibes's opera Lakmé and making a recommendation.
Written in the early 1880s and set in the British India of the mid-19th century, Lakmé is based on the novel Le Mariage de Loti by Pierre Loti. The opera includes the ever-popular Flower Duet sung by Lakmé, the daughter of a Brahmin priest, and her servant Mallika. It's most famous aria is the Bell Song in Act 2. Like other French operas of the 19th Century, Lakmé projects a view of the Orient seen through Western eyes. However, as a piece of well-crafted escapism with gorgeous tunes and lavish scenic backdrop it is an opera well worth discovering.
10.40
Jeremy Sams shares some new releases of mainly French music.
11.20
Record of the Week
Andrew recommends an outstanding new release.
Last on

Record Review
9.00am <?xml:namespace prefix = "o" ns = "urn:schemas-microsoft-com:office:office" />
Mozart, Du Puy & Weber: Bassoon Concertos
Bram van Sambeek (bassoon)
Swedish Chamber Orchestra
Alexei Ogrintchouk (conductor)
BIS BIS-2467 (Hybrid SACD)
https://bis.se/performers/sambeek-bram-van/mozart-weber-du-puy-bassoon-concertos
Beethoven: String Trios Op. 9 Nos. 1-3
Trio Boccherini
Genuin GEN20699
https://www.genuin.de/en/04_d.php?k=562
British Violin Sonatas Vol. 3: Bowen, Ireland, Alwyn, Brown, Coates
Tasmin Little (violin)
Piers Lane (piano)
Chandos CHAN20133
https://www.chandos.net/products/catalogue/CHAN%2020133
Vivaldi: Concerti per Flauto
Giovanni Antonini (recorder/director)
Il Giardino Armonico
Alpha ALPHA364
https://outhere-music.com/en/albums/concerti-per-flauto-alpha364
9.30am – Building a Library – Flora Willson on Delibes's Lakmé (NOTE: this is a repeat; it was first broadcast on 7th December 2019)
Composer: Léo Delibes
Reviewer: Flora Willson
Recommended Recording:


Mady Mesplé (soprano)
Danielle Millet (mezzo-soprano)
Charles Burles (tenor)
Roger Soyer (bass-baritone)
Jean-Christophe Benoit (baritone)
Bernadette Antoine (soprano)
Monique Linval (soprano)
Agnès Disney (mezzo-soprano)
Joseph Peyron (tenor)
Chœurs et Orchestre du Théâtre National de l'Opéra-Comique
Alain Lombard (conductor)
Erato 9029573486 (2CDs)
Other Recommended Recordings:
Natalie Dessay (soprano)
Patricia Petibon (soprano)
Xenia Konsek (soprano)
Delphine Haida (mezzo-soprano)
Gregory Kunde (tenor)
Franck Leguérinel (baritone)
José van Dam (bass-baritone)
Orchestre Du Capitole De Toulouse
Michel Plasson (conductor)
Erato 5565692 (2CDs)
10.15am – New Releases
Clara Schumann & Fanny Mendelssohn: Piano Trios & String Quartet
The Nash Ensemble
Hyperion CDA68307
https://www.hyperion-records.co.uk/dc.asp?dc=D_CDA68307
Care Pupille: Handel, Gluck
Samuel Mariño (soprano)
Händelfestspielorchester Halle
Michael Hofstetter (conductor)
Orfeo C998201
https://naxosdirect.com/items/care-pupille-534970
Composers' Academy, Vol. 3: Chia-Ying Lin, Alex Woolf, Benjamin Ashby
Philharmonia Orchestra
Geoffrey Paterson (conductor)
NMC DL3041 (download)
https://www.nmcrec.co.uk/recording/philharmonia-composers-academy-vol-3
Schubert: Schwanengesang & Beethoven: An die ferne Geliebte
Roderick Williams (baritone)
Iain Burnside (piano)
Chandos CHAN 20126
https://www.chandos.net/products/catalogue/CHAN%2020126
Beethoven: Symphonies Nos. 1-3 & Barry: 'Beethoven' & Piano Concerto
Nichols Hodges (piano)
Mark Stone (baritone)
Britten Sinfonia
Thomas Adès (conductor)
Signum Classics SIGCD616 (2 CDs)
https://signumrecords.com/product/beethoven-symphonies-1-2-barry-beethoven-and-piano-concerto/SIGCD616/
10.45am – New Releases – Jeremy Sams on music from France and beyond
Antheil: Serenades 1 & 2; The Golden Bird; Dreams
Württembergische Philharmonie Reutlingen
Fawzi Haimor (conductor)
CPO 555196-2
https://naxosdirect.com/items/george-antheil-serenades-nos.-1-2-the-golden-bird-dreams-534122
Magnard: Orchestral Works
Philharmonisches Orchester Freiburg
Fabrice Bollon (conductor)
Naxos 8.574084
https://naxosdirect.co.uk/items/alberic-magnard-orchestral-works-534019
Franck by Franck
Orchestre Philharmonique de Radio France
Mikko Franck (conductor)
Alpha ALPHA561
https://outhere-music.com/en/albums/franck-by-franck-alpha561
Nuits: Lekeu, Fauré, Berlioz, De La Tombelle, Massenet, Saint-Saëns, Chausson etc.
Véronique Gens (soprano)
I Giardini
Alpha ALPHA589
https://outhere-music.com/en/albums/nuits-alpha589
Vox Humana - Music by Debussy, Marais, Boulanger
Isang Enders (cello)
Sunwook Kim (piano)
Sean Shibe (guitar)
Mischa Meyer (cello)
Joachim Enders (harmonium)
Berlin Classics 0301212BC
https://berlin-classics-music.com/en/releases/vox-humana/
11.15am – Record of the Week
Beethoven: The Piano Concertos
Stephen Hough (piano)
Finnish Radio Symphony Orchestra
Hannu Lintu (conductor)
Hyperion CDA68291/3 (3 CDs)
Broadcast