Main content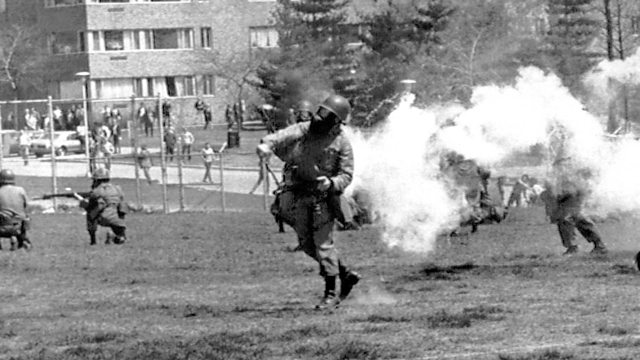 Four Dead in Ohio
May 4th 2020 marks the 50th anniversary of the Kent State massacre. Through archive and personal memory, Michael Goldfarb explores what America was like on that terrible weekend.
May 4th 2020 marks the 50th anniversary of the Kent State massacre in Ohio. On the day the shootings occurred, Michael Goldfarb was in his second year at another university just down the road. By the end of the week he was being tear gassed in front of the White House.
For him, that event and the days and weeks that followed remain a turning point not just in his life but also in the history of political activism in the US. By creating the conditions that would inevitably lead to the shootings at Kent (and at Jackson State, a historically black college in Mississippi, ten days later) a message was sent by government - you can protest this far and no further. We will kill you.
He believes that, over the decades, this has affected expressions of activism - it has constrained, particularly in the Democratic Party, its more radical wing.
Now, as the US faces arguably its most consequential election since the Kent State shootings - with the country even more divided today than back then - is the Democratic party still feeling the effect of Kent? Since the Million Woman March, what sustained political movement has arisen? Which activists have risked jail or death to build a popular movement to turn the country around?
As the Democrats go through their primaries to select a presidential candidate, Michael Goldfarb explores through archive and personal memory what America was like at the time of that terrible weekend 50 years ago - and what it is like today.
Today, the site of the shooting is a National Historical Landmark and Kent State's current administrators are making a huge effort to mark the anniversary. The programme illuminates the continuities of history - Kent State does not exist in the past perfect tense. It is still shaping lives. It is, to appropriate Faulkner, not even the past.
A Certain Height production for BBC Radio 4
Last on