Main content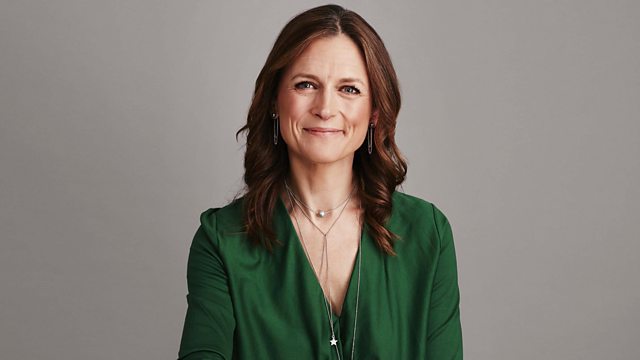 Kevin O'Hare, Steven Devine
Katie Derham talks to Kevin O'Hare, Director of the Royal Ballet, and introduces a Home Session from harpsichord player Steven Devine.
Last on
Music Played
George Frideric Handel

Concerto a due cori No 2 in F major, HWV 333 (5th mvt)

Ensemble: Brandenburg Consort. Conductor: Roy Goodman.

Rondeaux Royaux: The Brandenburg Consort, Roy Goodman.
Hyperion.
6.

Georges Bizet

L'arlésienne Suite No. 1, Op. 23bis, WD 40: IV. Carillon

Orchestra: Orquestra Simfònica de Barcelona i Nacional de Catalunya. Conductor: Pablo González.

Bizet: Carmen & L'arlésienne Suites.
Naxos.
304.

Clara Schumann

Piano Trio in G minor, Op 17 (2nd mvt)

Ensemble: Dartington Piano Trio.

Pyotr Ilyich Tchaikovsky

The Sleeping Beauty: Garland Waltz (Act 1)

Orchestra: Royal Opera Orchestra. Conductor: Mark Ermler.

Joby Talbot

The Mad Hatter's Tea Party (Alice's Adventures in Wonderland - suite)

Orchestra: Royal Philharmonic Orchestra. Conductor: Christopher Austin.

Domenico Scarlatti

Sonata in C major, Kk.72

Performer: Alexandre Tharaud.

D. Scarlatti: Sonatas: Alexandre Tharaud.
ERATO.
8.

Gioachino Rossini

Bel raggio lusinghier (Semiramide)

Singer: Joyce DiDonato. Choir: Chorus of the National Academy of Santa Cecilia. Orchestra: Orchestra of the Academy of Santa Cecilia, Rome. Conductor: Edoardo Müller.

Colbran, The Muse.
Virgin Classics.
8.

Franz Schubert

String Quartet No 13 in A minor, D 804, 'Rosamunde' (4th mvt)

Ensemble: Artemis Quartet.

Johann Sebastian Bach

Trio Sonata, BWV 525 arr for flute, violin and continuo

Performer: Ashley Solomon. Performer: Rodolfo Richter. Performer: Jennifer Morsches. Performer: James Johnstone. Ensemble: Florilegium.

J.S.Bach: Organ Trio Sonatas: Florilegium.
Channel Classics.

Frédéric Chopin

Introduction and polonaise in C major Op.3

Performer: Guy Johnston. Performer: Tom Poster.

Themes and Variations.
Orchid Classics.

Johann Christian Bach

Keyboard Concerto in D major Op.1`6 (1st mvt)

Performer: Steven Devine. Orchestra: The Mozartists. Conductor: Ian Page.

Dieterich Buxtehude

Prelude and Fugue in G minor, BUXWV 163

Performer: Steven Devine.

Johann Sebastian Bach

Mass in B minor, BWV.232 (Sanctus)

Ensemble: Arcangelo. Conductor: Jonathan Cohen.

Bach: Mass in B minor.
Hyperion.
10.

Maurice Ravel

Menuet (Le tombeau de Couperin)

Performer: Steven Osborne.

Ravel: The Complete Solo Piano Music: Steven Osborne, Piano.
Hyperion.
5.

Edvard Grieg

Wedding Day at Troldhaugen (Lyric Pieces)

Orchestrator: Franz Josef Breuer. Orchestra: BBC Scottish Symphony Orchestra. Conductor: Jerzy Maksymiuk.

Grieg: Peer Gynt, Sigur Jorsalfar.
NAXOS.
11.

Giovanni Gabrieli

Sonata a 8 S.118 [1615 no.13]

Ensemble: Il Giardino Armonico. Director: Giovanni Antonini.

Joseph Haydn

Symphony No 94 in G major, 'Surprise' (4th mvt)

Orchestra: Les Musiciens du Louvre-Grenobles. Conductor: Marc Minkowski.

Haydn, 12 London Symphonies: Marc Minkowski, Les Musiciens du Louvre-Grenobles.
Naive.
4.

Élisabeth Jacquet de La Guerre

Violin Sonata No 2 in D minor (1st mvt)

Ensemble: Bizzarrie Armoniche.
Broadcast