Main content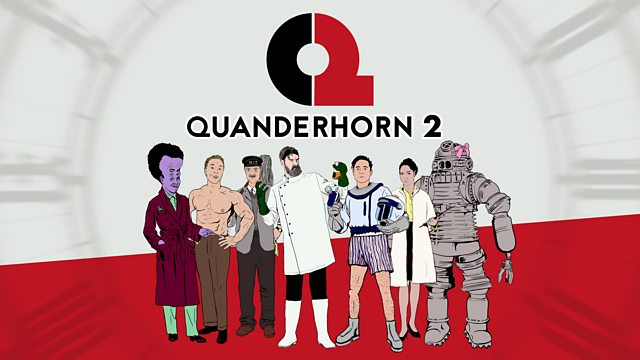 1. Killdiboos and Universibold Explodibangbang
Quanderhorn and his crew escape the impending disaster, but wind up scattered across time. Can they escape Ice Ages, Roman slavery, and a very familiar-looking Witchfinder General?
Mercurial genius, Professor Quanderhorn (James Fleet) has created a time loop, rendering it permanently 1952.
His arch nemesis, Churchill (John Sessions) has sent a wave of bagpiping bombers to unleash their payload over the 5th dimensional storage tanks holding the captured time, and reality is about to be destroyed.
The Professor and his rag-tag crew – test pilot Brian Nylon (Ryan Sampson), clockwork-emotioned Dr Gemini Janussen (Cassie Layton), caddish Martian hostage Guuuurk (Kevin Eldon) and Quanderhorn's part-insectoid son Troy (Freddie Fox), along with factotum Jenkins (John Sessions. Again) – escape by scattering themselves through time.
Troy and Guuuurk find themselves in a cave in the Pleistocene Era, with some rather unnerving co-habitants.
Brian and the Professor have an unexpected Latin lesson, resulting in Brian being given as a gift to a beautiful Roman noblewoman. He's rather worried to discover what's supposed to happen next.
Dr Janussen and Sergeant "Jenkins" Jenkins are spirited to the mid-seventeenth century, where they encounter a strangely familiar-looking Witchfinder General.
Starring
James Fleet as Professor Quanderhorn
Ryan Sampson as Brian Nylon
Cassie Layton as Dr Gemini Janussen
Freddie Fox as Troy Quanderhorn
Kevin Eldon as Guuuurk
John Sessions as Sergeant 'Jenkins' Jenkins and Churchill
Rachel Atkins as Delores
Created and Written by Rob Grant and Andrew Marshall
Directed by Andrew Marshall
Studio Engineer and Editor: Alisdair McGregor
Production Manager: Sarah Tombling
Special Thanks to Edward Rowett
Recorded at The Soundhouse Studios
Produced by Rob Grant and Gordon Kennedy
An Absolutely production for BBC Radio 4
Last on
More episodes
Previous
You are at the first episode
Broadcasts