Main content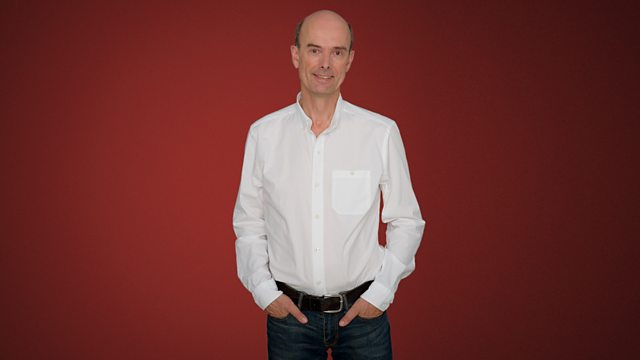 Sunday - Martin Handley
Martin Handley presents Radio 3's classical breakfast show including a Sunday morning Sounds of the Earth slow radio soundscape.
Email 3breakfast@bbc.co.uk
Last on
Music Played
George Frideric Handel

Tra le fiamme tu scherzi per gioco (Tra le fiamme)

Singer: Magdalena Kožená. Orchestra: Les Musiciens du Louvre. Conductor: Marc Minkowski.

Handel Italian Cantatas.
Archiv.
18.

Dobrinka Tabakova

Nocturne

Performer: Evelyn Chang.

George Harrison

Here comes the sun

Music Arranger: Christopher Austin. Performer: Miloš Karadaglić. Ensemble: Navarra String Quartet.

Rued Langgaard

Symphony no.3 (3rd mvt)

Performer: Per Salo. Orchestra: Danish National Symphony Orchestra. Conductor: Thomas Dausgaard.

Franz Schubert

Octet in F major D.803 (4th mvt)

Performer: Isabelle Faust. Performer: Anne Katharina Schreiber. Performer: Danusha Waskiewicz. Performer: Kristin von der Goltz. Performer: James Munro. Performer: Lorenzo Coppola. Performer: Teunis van der Zwart. Performer: Javier Zafra.

Schubert: Oktett.
harmonia mundi.
104.

Richard Wagner

Morgendlich leuchtend (Die Meistersinger von Nurnberg)

Singer: Jonas Kaufmann. Orchestra: Prague Philharmonic Orchestra. Conductor: Marco Armiliato.

Gerald Finzi

Romance Op.11

Orchestra: Aurora Orchestra. Conductor: Nicholas Collon.

Introit: The Music of Gerald Finzi.
Decca.
12.

George Malcolm

Bach Before the Mast

Performer: George Malcolm.

The World of the Harpsichord.
Decca.
15.

Arthur Benjamin

Jamaican Rumba

Music Arranger: Reginald Kell. Performer: Emma Johnson. Performer: Julius Drake.

Alberto Ginastera

Malambo (Estancia Op.8a)

Orchestra: Simón Bolívar Symphony Orchestra. Conductor: Gustavo Dudamel.

111 Years Of Deutsche Grammophon The Collector's Edition Vol.2.
Deutsche Grammophon.
1.

Claudio Monteverdi

Pur ti miro, pur ti godo (L'incoronazione di Poppea)

Singer: Sylvia McNair. Singer: Dana Hanchard. Orchestra: English Baroque Soloists. Conductor: Sir John Eliot Gardiner.

Monteverdi: L'incoronazione di Poppea: John Eliot Gardiner.
Archiv Produktion.
10.

Gustav Holst

Hymn to the Dawn (Choral hymns from the Rig Veda)

Performer: Grace Cloutier. Choir: Etherea Vocal Ensemble. Conductor: Derek Greten-Harrison.

George Frideric Handel

Hush, ye pretty warbling quire! (Acis and Galatea)

Singer: Lucy Crowe. Orchestra: Early Opera Company. Conductor: Christian Curnyn.

Norah Jones

Sunrise

Performer: Andrew Borger. Performer: Lee Alexander. Performer: Norah Jones. Singer: Norah Jones.

Wolfgang Amadeus Mozart

Symphony no.34 in C major, K.338 (3rd mvt)

Orchestra: London Mozart Players. Conductor: Jane Glover.

Fats Waller

Your feets too big

Ensemble: Fats Waller Band.

Antonio Vivaldi

The Priest and the Gypsy (after Violin Concerto in A minor RV356 - 1st mvt)

Music Arranger: Red Priest. Ensemble: Red Priest.

Ludwig van Beethoven

Bagatelle in F major, Op.33 no.3

Performer: Alfred Brendel.

Beethoven: Alfred Brendel plays, vol.4.
Vox Box.
11.

Malcolm Arnold

Symphony no.2 Op.40 (4th mvt)

Orchestra: Bournemouth Symphony Orchestra. Conductor: Sir Charles Groves.

Symphonies nos.2 & 5 etc..
EMI.
4.
Broadcast