Main content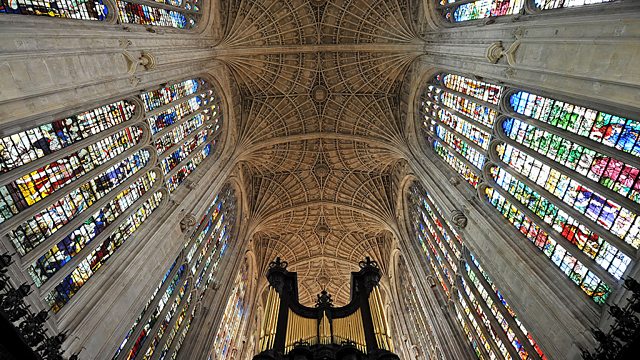 2020
Music and readings for Holy Week and Easter from the glorious Chapel of King's College, Cambridge.
Music and readings for Holy Week and Easter from the glorious Chapel of King's College, Cambridge. The world-famous choir, directed by Daniel Hyde, sing some of the best-loved choral music for the season, including O Vos Omnes (Pablo Casals), Were You There? (arr. Richard Lloyd), And I Saw a New Heaven (Edgar Bainton) and Blessed be the God and Father (SS Wesley).
Members of King's College tell the story of Jesus's death and resurrection from the Bible and poems written by Patrick Carey and Malcolm Guite. The congregation joins in popular Easter hymns, including Ye Choirs of New Jerusalem and Jesus Christ is Risen Today.
Music Played
Timings (where shown) are from the start of the programme in hours and minutes
00:08

Susan Boyle

O Holy Night

00:47

Choir of Westminster Abbey

Blessed Be The God and Father

01:02

Schola Cantorum

Bella Senz'anima

01:07

The Sixteen, Harry Christophers

Bainton: and I Saw A New Heaven

01:12

St. Michael's Singers

Christ The Lord Is Risen Today
Easter From King's - Order Of Service 2020
EASTER FROM KING'S 2020
HOLY WEEK TO EASTER DAY
THERE IS A GREEN HILL FAR AWAY
William Horsley
Reading 1:  Mark 11. 1-11
St Mark recounts the entry of Jesus into Jerusalem, marking the beginning of a week that leads to his arrest, crucifixion and death – and ultimately to his redemptive resurrection on Easter Day.
HOSIANNA DEM SOHNE DAVIDS
Gesius
Hosanna to the Son of David
Blessed is he that comes in the name of the Lord
Processional Hymn: ALL GLORY, LAUD AND HONOUR
Reading 2:  Mark 14. 12-25
Jesus shares his last supper with his friends.
UBI CARITAS
Ola Gjeilo
Where charity and love are, God is there
TANTUM ERGO
Duruflé
Bowing, before him, we revere this great sacrament
THE HEAVENLY WORD PROCEEDING FORTH
Charles Wood, from St Mark Passion
Reading 3:  CHRIST IN THE GARDEN
Patrick Carey (1624-1657)
O VOS OMNES
Pablo Casals
O all ye that pass by, see if there is any sorrow like mine
CIVITAS SANCTI TUI
Byrd
Your holy cities are deserted, Jerusalem a desolation
LORD WHEN WE BOW BEFORE THY THRONE
Charles Wood
Reading 4:  Mark 15. 21-32
Jesus is crucified
WERE YOU THERE?
arr. Richard Lloyd
MY GOD I LOVE THEE
Charles Wood
Reading 5:  John 20. 1-10
The Resurrection.
BLESSED BE THE GOD AND FATHER
S. S. Wesley
THIS JOYFUL EASTERTIDE
arr. Wood
Reading 6:  EASTER DAWN
Malcolm Guite
NOW THE GREEN BLADE RISETH
Bob Chilcott
Hymn: YE CHOIRS OF NEW JERUSALEM
Reading 7:  Revelation 21. 1-7
St John the Divine foresees God's eternal city of peace.
AND I SAW A NEW HEAVEN
Edgar Bainton 
Blessing
The Revd Dr Stephen Cherry, Dean
Hymn: JESUS CHRIST IS RISEN TODAY
Organ voluntary:  Prelude in C Major BWV 545
J. S. Bach
From the Chapel of King's College, Cambridge
With
THE CHOIR OF KING'S COLLEGE, CAMBRIDGE
Director of Music
DANIEL HYDE
Organ Scholar
DONAL McCANN
Soprano
ANITA MONSERRAT  
Dean
THE REVD DR STEPHEN CHERRY
Credits
| Role | Contributor |
| --- | --- |
| Director | Pamela Hossick |
| Producer | James Whitbourn |
| Executive Producer | Hugh Faupel |
Featured in...
Programmes showing the importance of faith, while offering hope and optimism to everyone