Main content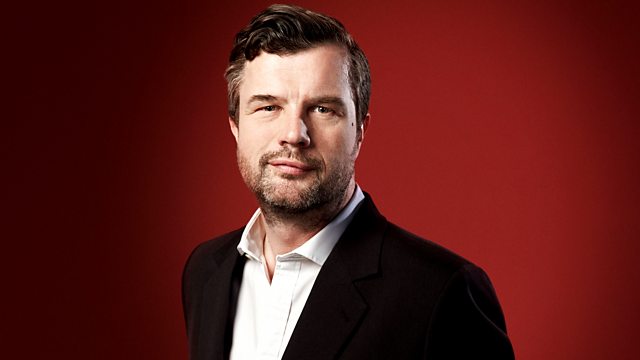 Friday - Petroc's classical alternative
Petroc Trelawny presents Radio 3's classical breakfast show, featuring a complete Bach cantata in our regular 'Bach Before 7' slot, as well as including listeners' requests and the Friday Poem.
Email 3breakfast@bbc.co.uk
Last on
Music Played
Carl Nielsen

Aladdin - suite (Dance Of The Morning Mists)

Orchestra: Swedish Radio Symphony Orchestra. Orchestra: Swedish Radio Symphony Orchestra. Conductor: Esa‐Pekka Salonen. Conductor: Esa‐Pekka Salonen.

Salonen Conducts Nielsen.
Sony Classical.
7.

Mikhail Ivanovich Glinka

The Lark

Music Arranger: Mily Alexeyevich Balakirev. Performer: Danny Driver.

Balakirev - Piano Sonatas and Other Works.
Hyperion.
10.

Johann Sebastian Bach

Cantata BWV.6 'Bleib' bei uns, denn es will Abend werden'

Singer: Barbara Schlick. Singer: Andreas Scholl. Singer: Steve Davislim. Singer: Gotthold Schwarz. Choir: Accentus. Ensemble: Ensemble Baroque de Limoges. Director: Christophe Coin.

Bach: Cantata BWV41 etc..
Naive.
7-12.

Edward Elgar

The Wand of youth - suite no. 1 (Sun Dance)

Orchestra: London Philharmonic Orchestra. Conductor: Adrian Boult.

Elgar: The Wand of Youth etc.: LPO/Boult.
EMI.
4.

Frank Churchill

Bambi: Little April Shower (in the style of Handel)

Composer: Donald Fraser.

Heigh-Ho! Mozart - Favorite Disney Tunes in the Style of Great Classical Compose.
Delos.
13.

Patrick Hadley

Kinder Scout

Orchestra: BBC Philharmonic. Conductor: Rumon Gamba.

Samuel Coleridge-Taylor

Piano Quintet in G minor, Op.1 (4th mvt)

Ensemble: Nash Ensemble.

Frédéric Chopin

Nocturne in B flat minor, Op.9 no.1

Performer: Maria João Pires.

Chopin: The Nocturnes: Maria Joao Pires.
Deutsche Grammophon.
1.

Giovanni Pierluigi da Palestrina

Deus, Deus meus

Ensemble: Brabant Ensemble. Conductor: Stephen Rice.

Arthur Sullivan

The world is but a broken toy (Princess Ida)

Singer: Elizabeth Harwood. Singer: David Palmer. Singer: Philip Potter. Singer: Jeffrey Skitch. Orchestra: Royal Philharmonic Orchestra. Conductor: Malcolm Sargent.

Henry Purcell

Sonata no.6 in C major Z.795

Ensemble: Retrospect Trio.

Purcell: Twelve Sonatas in Three Parts: Retrospect Trio.
Linn.
28.

Wolfgang Amadeus Mozart

Piano Concerto no.18 in B flat major, K.456 (3rd mvt)

Performer: Richard Goode. Orchestra: Orpheus Chamber Orchestra.

Mozart; Piano Concerto No.18; Richard Goode/Orpheus Chamber Orchestra.
Nonesuch.
3.

Nicolò Paganini

Caprice in E major, Op.1 no.1

Performer: Leonidas Kavakos.

Paganini: 24 Capricci: Leonidas Kavacos.
Dynamic.
1.

Friday Poem

'The Old Love' by Katharine Tynan read by Joanne Froggart

Margaret Hubicki

The Lonely Piper (Irish Fantasy)

Performer: James Kirby.

Leonard Bernstein

America (West Side Story)

Singer: Rita Moreno. Singer: George Chakiris. Orchestra: Studio Orchestra. Conductor: Johnny Green.

Sir George Dyson

Overture: At the Tabard Inn (The Canterbury Pilgrims)

Orchestra: London Symphony Orchestra. Conductor: Richard Hickox.

James M. Stephenson

Colors (Green)

Performer: John Bruce Yeh. Performer: Alex Klein. Ensemble: Chicago Pro Musica.

Liquid Melancholy: Clarinet Music of James M Stephenson.
Cedille.
203.

Franz Liszt

Consolation in D flat major, S.172 no.3

Performer: Mariam Batsashvili.

John Philip Sousa

Our Flirtation

Ensemble: Eastman Wind Ensemble. Conductor: Frederick Fennell.

Thomas Crecquillon

Congratulamini mihi

Ensemble: Cardinall's Musick. Conductor: Andrew Carwood.

Johann Strauss II

Die Fledermaus (Overture)

Orchestra: Bavarian State Orchestra. Conductor: Carlos Kleiber.

Charles‐François Gounod

Le temps des roses

Singer: Carolyn Sampson. Performer: Joseph Middleton.

Radio 3 Breakfast Singalong

Harold Arlen

Somewhere over the Rainbow

Music Arranger: Anna Tilbrook. Performer: Anna Tilbrook.
Broadcast