Main content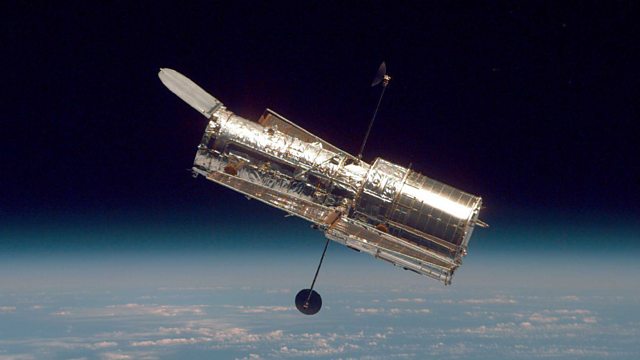 The Hubble Legacy
Astronaut and artist Nicole Stott celebrates the cultural legacy of the 30-year-old Hubble Space Telescope - a mission that's influenced art, music and science fiction.
Astronaut and artist Nicole Stott celebrates the scientific and cultural legacy of the Hubble Space Telescope. 30 years after launch, it's a mission that's influenced art, music and science fiction.
Launched on 24 April 1990 and built to last 15 years, the $1.5 billion Hubble Space Telescope was a disaster. Most serious among a catalogue of flaws was a fault with the primary mirror. Fortunately, the telescope had always been designed to be serviced in space and, after one of the most challenging and complex space walks in history, scientists downloaded the first new Hubble images. The results were astounding.
Every week, Hubble delivers 140 gigabytes of science data back to Earth, transforming our view and knowledge of the universe. But what NASA didn't foresee when it launched the telescope was its cultural legacy. Images from Hubble have appeared on album covers, video games, in movies and on clothing and jewellery.
In science fiction films and TV shows released before Hubble, space was black with scattered stars. Now, movies are alive with swirling colours. Pictures from the space telescope can be found on t-shirts, leggings and on desktop screensavers in almost every office across the world. U2, Pearl Jam and the Royal Philharmonic have used Hubble images to inspire their music.
The programme includes new interviews with composer Eric Whitacre and one of the astronauts who launched Hubble, Kathy Sullivan. It also features archive interviews with astronauts and a wealth of newly remastered NASA archive.
Hubble has changed how we think of ourselves and our place in the universe. The telescope has given humanity a sense of the vastness of the cosmos but, nevertheless, connected us to it like never before.
A Boffin Media production for BBC Radio 4.
Last on