Main content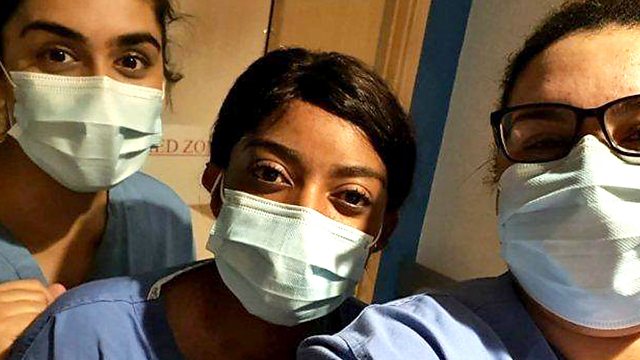 Week 3 on the covid wards
Dr John Wright and medics at the Bradford Royal Infirmary are faced with the prospect of barring visitors to the Covid-19 wards, even when loved ones are desperately ill and dying.
The prospect of keeping families apart at the time of death is so new to medical staff in the UK that it is hard to process alongside everything else that this pandemic has thrown into turmoil. Telephones and monitors are being brought onto the Covid-19 wards in a bid to link families using new technology in the hope that this brings comfort even though loved ones are prevented entering the hospital during the pandemic.
Dr John Wright has been recording on the wards for BBC Radio 4 – starting on March 16th, the day the Prime Minister gave his first televised address about the danger of Covid-19. This is week three of his diaries, recorded as the number of cases starts to increase and the pressures on the frontline team intensify.
These recordings with frontline NHS staff at all levels, take you behind the scenes on the wards as they plan for what is to come and then cope as the patients arrive. They let us share in the pressures, personal and professional, and in the decisions being made in the face of this unprecedented threat.
Professor John Wright is helping Bradford Royal Infirmary to get ready for Covid-19. He's looked after patients all over the world – cholera and HIV in Southern Africa, Ebola in Sierra Leone. He thinks it's important we should all know what we are facing.
Presented by Winifred Robinson
Produced by Sue Mitchell
Sound Production by Richard Hannaford
Last on
Broadcast

The Coronavirus Doctor's Diary
Podcast
Behind the scenes with frontline NHS staff on the wards coping with the onset of COVID-19.