Main content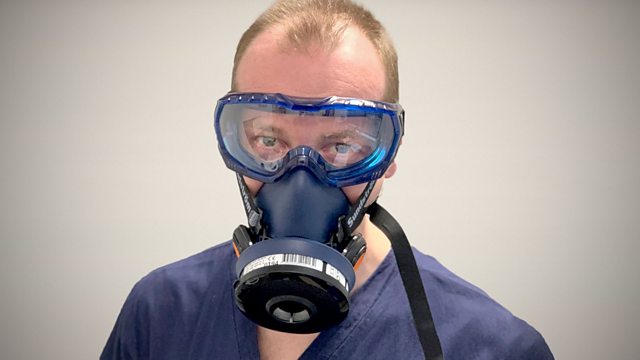 Week 2 on the covid wards
Hospital wards are adapted to cope with increasing numbers of Covid-19 patients, but the efforts of staff are being hindered by the rapid spread of the virus in their own teams.
As increasing numbers of Covid-19 patients are needing medical care the efforts of doctors and nurses are being hampered by sickness in their own ranks. The spread of the virus appears to be hitting the very teams dealing with those made so ill by it and the lack of testing and worries about protective equipment are hindering their efforts.
Dr John Wright has been recording on the wards at the Bradford Royal Infirmary for BBC Radio 4 – starting on March 16th, the day the Prime Minister gave his first televised address about the danger of Covid-19. This is week two of his diaries, recorded as the number of cases starts to increase and the pressures on the frontline teams intensifies.
These recordings with frontline NHS staff at all levels, take you behind the scenes on the wards as they plan for what is to come and then cope as the patients arrive. They let us share in the pressures, personal and professional, and in the decisions being made in the face of this unprecedented threat.
Professor John Wright is helping Bradford Royal Infirmary to get ready for Covid-19. He's looked after patients all over the world – cholera and HIV in Southern Africa, Ebola in Sierra Leone. He thinks it's important we should all know what we are facing.
Presented by Winifred Robinson
Produced by Sue Mitchell
Sound Production by Richard Hannaford
Last on
Broadcast

The Coronavirus Doctor's Diary
Podcast
Behind the scenes with frontline NHS staff on the wards coping with the onset of COVID-19.