Main content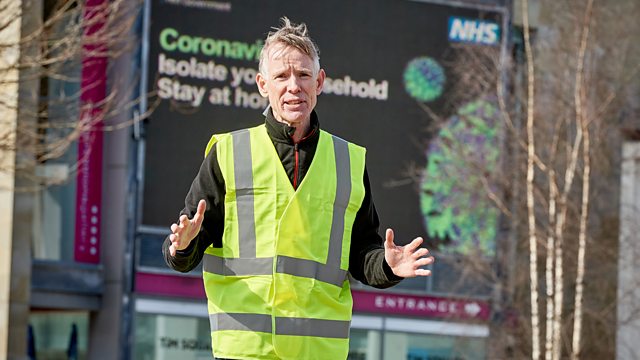 Week 1 on the covid wards
A senior NHS doctor has been recording on the hospital wards for Radio 4, starting on March 16th, the day the PM gave his first televised address about the danger of COVID-19.
This series takes you inside the Covid wards in one of the UK's busiest teaching hospitals. The recordings are all made by Dr John Wright, who is helping prepare for the pandemic and speaks to those alongside him, from doctors and nurses, through to admin managers and cleaners. This is a race to help those most at risk from this virus and people are united in doing their best to help those in the local community who need them more than ever before.
Dr Wright starts these recordings on March 16th, the day the Prime Minister gave his first televised address about the danger of Covid-19. The series unfolds in real time, giving you a week by week account of what is happening on the hospital wards. You can follow the inside thoughts of the teams planning for the surge in patient numbers and hear form relatives prevented from entering the hospital and having to find new ways to speak to loved ones, even when they're dying.
This is the only access of its kind to the real inside account of how the hospital is gearing up to meet this huge challenge and listeners are alongside from the start. In this programme intensive care doctors are rapidly expanding bed numbers to cope as people become very ill and need to be on ventilators. An old disused ward is being brought back into life and nurses are allocated to the new Covid wards as they start to fill.
Professor John Wright is an expert in fighting epidemics and has worked in outbreaks of Ebola, Cholera and HIV around the world. He thinks it's important to share what clinical staff and support workers are facing at this critical time. At the end of each podcast version he discusses some of the issues raised with Presenter Winifred Robinson and provides answers to some of the questions that people might have.
Presented by Winifred Robinson
Produced by Sue Mitchell
Sound Design by Richard Hannaford
Last on
More episodes
Previous
You are at the first episode
Broadcast

Podcast
Behind the scenes with frontline NHS staff on the wards coping with the onset of COVID-19.