Main content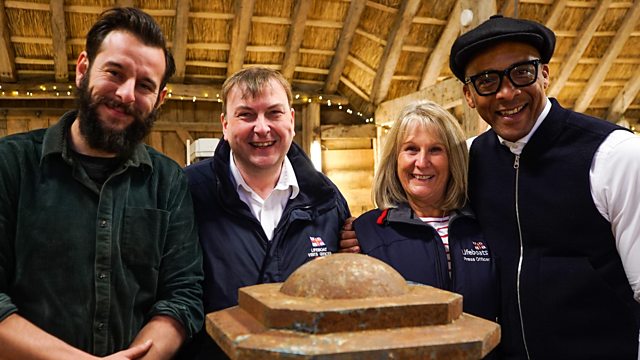 Jay Blades and the team tackle a chair used during the investiture ceremony of the Prince of Wales, an air-powered toy car and a RNLI donation box.
Jay Blades and the team bring three treasured family heirlooms, and the memories they hold, back to life.
Jay and Will Kirk team up to restore a piece of furniture that was the pride and joy of the mother of sisters Linda Atkinson and Pauline Murphy from Merseyside. The chair was created for the investiture ceremony of the Prince of Wales - one of 4,000 made and later auctioned off to the general public. Linda and Pauline's patriotic mum bought the chair but permitted no-one to sit in it. Her husband was less keen on this national treasure, and after a while it was consigned to the garage, where it deteriorated. The sisters would love the team to restore its stately appearance for their dear mum, who is now 93.
Mechanical expert Steve Fletcher is in for a treat as he takes receipt of an air-powered toy car. Pam Carter from Cumbria has brought along this unusual and much-cherished vintage toy that has run out of puff. The little car belonged to her father, who recently passed away. She was very close to him, and he entrusted her to get his beloved toy repaired.
Metals expert Dom Chinea takes on a salvaged donation box. Martin Brockman and Elaine Trethowan from Penlee in Cornwall are volunteers for the Royal National Lifeboat Institution and have brought in this relic that they would love to reinstate at their lifeboat station so it can collect donations from passers-by, as it did decades ago. At over 150 years old and weighing over a tonne, it is riddled with rust and hasn't been opened since who knows when. Dom's first task on this rescue mission is to get the box open, which is easier said than done.