Main content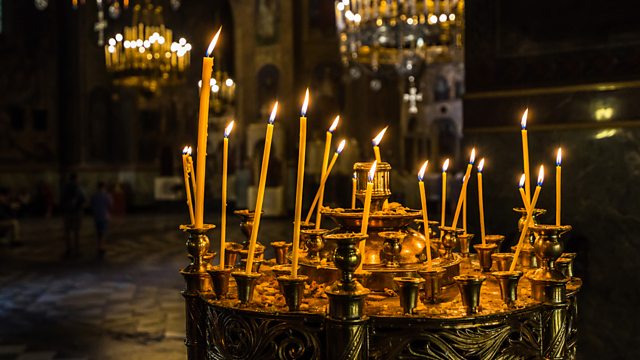 Music for Holy Week
Music for Lent: Bach and Handel from Auckland, with Lassus and Schnittke from Munich. Also, Vaughan Williams' Mass in G minor with the choir of Clare College Cambridge.
The Auckland Philharmonia Orchestra, conducted by Sofi Jeannin, perform Bach and Handel in Auckland, New Zealand.
Handel's Messiah is often played in December, but liturgically this is quite wrong. The familiar Christmas music is a prelude to Handel's main concerns, the Passion and Resurrection of Christ. It is an Easter piece, then, and so too are Bach's two Passions and his Easter Oratorio.
Sofi Jeannin, the new chief conductor of the prestigious BBC Singers, has devised an imaginative programme telling the Easter story using all four of these towering pieces, including the ever-popular Hallelujah Chorus. With an exceptional cast of singers and Voices New Zealand Chamber Choir, the programme is profoundly moving on a spiritual level and sublime on a musical one, just in time for Easter.
Also, Vaughan Williams' Mass in G minor with the choir of Clare College Cambridge, conducted by Timothy Brown, with soloists, the soprano Harriet Colley, the alto Jessica Wallington; the tenor Nicholas Morrell, and the bass Stefan Berkieta.
7.30:
Bach: Excerpts from St Matthew Passion, BWV 244
Sinfonia and Adagio, from Easter Oratorio, BWV 249
Handel: Excerpts from Messiah, HWV 56
Bach: Sonatina, from Gottes Zeit ist die allerbeste Zeit, BWV 106 ('Actus Tragicus')
Excerpts from St John Passion, BWV 245
Crucifixus, from Mass in B minor, BWV 232
Handel: I know that my Redeemer liveth, from Messiah, HWV 56
Anna Leese, soprano
Sally-Anne Russell, mezzo-soprano
Henry Choo, tenor
James Ioelu, bass-baritone
Voices New Zealand
Karen Grylls, chorus director
Auckland Philharmonia Orchestra
Sofi Jeannin, conductor
(Concert given in the Town Hall, Auckland on 18th April 2019)
8.45: In the second part of the evening, the Bavarian Radio Chorus, conducted by Klaas Stock, performs Lenten music by Lassus and Schnittke in Munich.
Lassus: Excerpts from 'Seven Penitential Psalms', for five voices
1. Domine ne in fuore tuo – Miserere
2. Beati quorum remissae sunt
3. Domine ne in fuore tuo – Quoniam
7. Domine exaudi orationem meam: auribus percipe
Schnittke: Penitential Psalms
II. O wilderness, gather me to your silent and gentle lap
III. That is why I live in poverty
IV. My soul, why are you in a state of sin?
V. O Man, doomed and wretched
VI. When they beheld the ship that suddenly came
VII. Oh my soul, why are you not afraid?
VIII. If you wish to overcome unending sorrow
IX. I have reflected on my life as a monk
X. Christian people, gather together!
XI. I entered this life of tears a naked infant
XII. [wordless humming/bocca chiusa]
Bavarian Radio Chorus
Klaas Stok, conductor
(Concert given in the Prinzregententheater, Munich on 7th March 2020)
9.05pm
R. Vaughan Williams: Mass in G minor
Harriet Colley, soprano
Jessica Wallington, alto
Nicholas Morrell, tenor
Stefan Berkieta, bass
Choir of Clare College Cambridge
Timothy Brown, conductor
Last on

Broadcast

Featured in...
We broadcast more live and specially-recorded concerts and opera than any other station.