Main content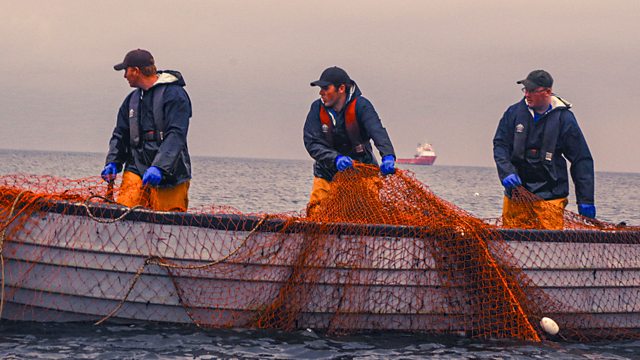 Of Fish and Foe
Documentary. A family of salmon net fishermen battle with activists. However, a greater enemy intent on destroying their traditional way of life emerges from the shadows.
Drama unfolds when activists descend on a sleepy fishing village on the Scottish coast. However, it is not just fishermen and activists at war, it is a collision of two worlds, the traditional and the modern, the rural and the urban and the carnivore and the vegan.
The fishermen are the Pullar family. They fish for the salmon returning from their feeding grounds, just as their forefathers have for hundreds of years. Salmon were once essential to Scotland, with hundreds of skilfully erected bag nets dotted all along the coast to trap them as they swim home to their river of birth. The fishermen harvested the fish in small open boats on every tide.
Today, only two families still use this unique Scottish fishing technique and their wild Scottish salmon is now regarded as a speciality in demand across Europe. However, this ancient technique comes with a cost. Rogue seals are attracted by the trapped salmon and chew through the nets to get to the easy prey. The seal population has always competed for the same food as the fishermen and so was traditionally kept low and was nearly culled to extinction early on in the last century.
These days, the grey seal population has fully recovered and is posing a huge problem to today's fishermen, who have a license to shoot grey seals as a last resort when they attack the salmon in their nets.
'Every animal has the right to a full and happy life', claims Sea Shepherd volunteer Spud. Sea Shepherd activists, nearly all vegan, have moved in to stop the killing of seals. These activists jump in front of the guns and use social media and video cameras to stop the Pullars by any means possible. The Pullar clan fight back until a surprising enemy emerges to help the activists. River owners claim the salmon in their rivers are in decline and that the fight to stop the netsmen fishing for the salmon is in the interest of conservation. Is this true? These landlords own rivers with salmon-angling rights worth millions of pounds. Could this unlikely alliance of vegan activists and wealthy river owners actually triumph over the Pullars?