Main content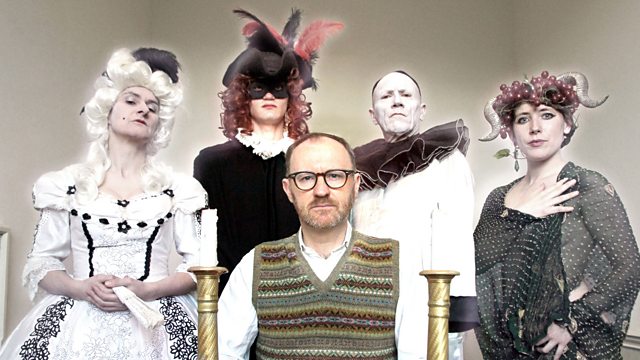 Scandal & Beauty: Mark Gatiss on Aubrey Beardsley
Mark Gatiss explores the brief life of Victorian artist Aubrey Beardsley, who wielded outrage as adroitly as his pen, and whose uncompromising attitude feels utterly modern.
Mark Gatiss explores the life and career of Aubrey Beardsley, an artist who wielded outrage as adroitly as his pen. A lifelong fan, Mark shows how Beardsley was more than just a genius of self-promotion who scandalised the art world of the 1890s. He was also a technological innovator, whose uncompromising attitude still feels remarkably modern.
The programme follows Beardsley's fevered footsteps from his childhood in Brighton, via notoriety among the decadents of London's fin de siècle, to his early death in France in 1898 at the age of just 25. Mark argues that the key to understanding this elusive artist is his childhood diagnosis of tuberculosis. The knowledge that he was likely to die young created a prodigious work ethic. Throughout his astonishing but brief artistic career, Beardsley constantly adopted new styles - sometimes reinventing himself every few months.
Contributors to the programme include Stephen Fry, who discusses Beardsley's illustrations for Oscar Wilde's banned play Salome, and the illustrator Chris Riddell, who explains the influence of Japanese woodblock prints on Beardsley's work. Leading scholar and programme consultant Stephen Calloway explains how the new technology of zinc line blocks allowed the artist to use mass reproduction as a tool for publicising his own – increasingly infamous - brand.
Caught up in the fallout of the Wilde scandal, and in failing health, Beardsley's career took a downturn. But adversity only made him more uncompromising. This was when he created his most unforgettable - and sexually charged – images for a privately published edition of Aristophanes's Lysistrata, as well as a remarkable depiction of himself as an androgynous dandy. Is it possible that his limited life expectancy freed Beardsley from the conventional late Victorian expectations of masculinity?
Alice Insley and Mark Gatiss on Aubrey Beardsley
Credits
| Role | Contributor |
| --- | --- |
| Presenter | Mark Gatiss |
| Writer | Mark Gatiss |
| Executive Producer | John Das |
| Executive Producer | Sebastian Barfield |
| Director | Matthew Thomas |
Featured in...
New programmes and archive for a week-long celebration of museums and galleries.

Exploring national museum collections at a time of enforced closure.

A collection of programmes exploring the life and times of Queen Victoria