Main content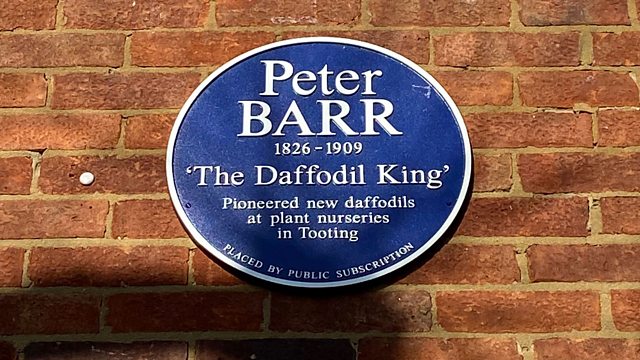 North Guildford
Peter Gibbs is joined by Pippa Greenwood, Matthew Pottage and Matt Biggs in North Guildford, Surrey.
Peter Gibbs is joined by Pippa Greenwood, Matthew Pottage and Matt Biggs in North Guildford, Surrey, in a programme recorded before the current situation with the coronavirus..
The panellists answer questions on getting Strelitzia to flower, how frequently to change the soil in large containers and planting suggestions for a narrow, shady passage by a house. They also identify some garden pests and recommend how to deal with them.
Away from the questions, Matt Biggs meets Geoff Simmons in Tooting to find out about Peter Barr - or as he's more fondly known - the Daffodil King.
Producer: Dan Cocker
Assistant Producer: Rosie Merotra
A Somethin' Else production for BBC Radio 4
Plant List
Questions and timecodes are below. Where applicable, plant names are provided.
Q – Please can you identify this pest which is stripping my Fuchsia?
(2 minutes 18 seconds)
Q – I have some Strelitzia plants which are kept indoors but have never flowered. Can the panel advise me on how to encourage them to flower?
(4 minutes 42 seconds)
Q – How do you get the alpine Saxifrages – in particular 'Peter Pan' – to flower again? I buy them in flower, but then they peter out, what can I do?
(6 minutes 24 seconds)
Q – I have a beautiful yellow Rhododendrum 'Horizon Monarch'. I noticed last year that some of the leaves had mildew on, and some black spot. Could you tell me what is happening as it is getting worse?
(8 minutes 24 seconds)
Q – Several years ago, my wife was given some daffodils which were registered in her name, however they have now stopped flowering, where they were before. Why is this?
(12 minutes 2 seconds)
Feature
(16 minutes 23 seconds)
Q – Can the panel suggest some green and ideally scented plants that would survive in a long narrow, shady passage down the side of our house – climbers welcome (12m x 1m / 39ft x 3ft)?
Matthew– Edgeworthis chrysantha 'Grandiflora'
Matt – Daphne bholua 'Jacqueline Postill'
Daphne x transatlantica 'Eternal Fragrance'
Pippa – Tiarella
Parthenocissus henryana
Climbing hydrangea
Q – I have a 'Buckingham' tayberry planted 7 years ago in a sunny spot and follow the RHS guidelines on how to take care of it. I have had some very healthy fruit, however in the last few years, many berries failed to mature resulting in poor harvests. Can the panel suggest anything to revive it?
(30 minutes 10 seconds)
Q – My 88-year-old aunt uses pots for her Camellias, Fuchsias, bulbs, herbs, annuals and perennials. Could you tell us how often we should – either fully or part – change the soil in these pots?
(34 minutes 30 seconds)
Q – Ever since visiting Ventnor Botanical Gardens and saw their magnificent display of Echium pininana, I have been trying to grow them – unsuccessfully, until this season. What am I doing right?
(38 minutes 12 seconds)