Main content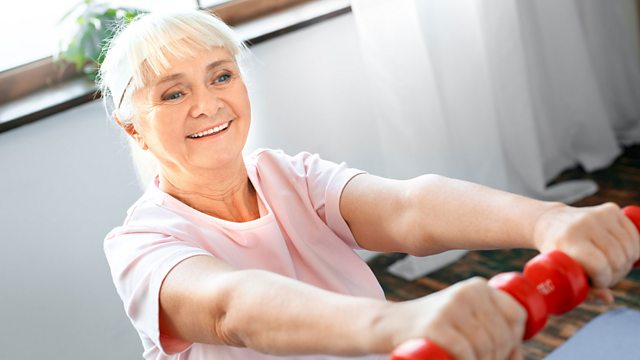 Exercise at home, Safe access to abortion during Covid-19, Lauren Gunderson, Jessica Moor
Keeping fit when isolating at home. Access to safe abortions. Playwright Lauren Gunderson. Keeper - what can a novel set in a women's refuge teach us about domestic abuse?
Keeping up fitness when you're isolated at home. Jenni talks to fitness instructor Rosemary Mallace of Over Fifty Fitness and Professor Janet Lord, an expert in muscle health and immunity from the University of Birmingham, about why keeping moving is particularly important as you get older and what you can do to exercise at home.
Earlier this week the Government published advice that women could be prescribed both abortion pills for a medical abortion, which they would be able to take at home, without attending a hospital or clinic. It has since said that this was published in error. With women trying to observe instructions to stay at home – some self-isolating – trying to reduce the spread of Coronavirus the British Pregnancy Advisory Service says that 500 women a day must make unnecessary journeys, with services and clinic closures forcing them to travel greater distances. So, how can those women who need an abortion access one safely and legally? Jenni speaks to Professor Lesley Regan, Past President RCOG and Co-Chair National Women's Health Task Force and to Stella Creasy, Labour MP for Walthamstow.
Hampstead Theatre in London is currently streaming on Instagram, 'I and You' a play they produced in 2018 starring Maisie Williams in her first stage role. It looks at the struggle a teenager finding herself restricted to her home. The playwright, Lauren Gunderson, currently the most produced living playwright in the US, tells us about her play and what it says about the struggles of youth confined across the globe.
Keeper by Jessica Moor is a novel set in a women's refuge. Katie, an employee there, has died. As the women in the refuge insist Katie didn't take her own life the police are forced to investigate. Jenni talks to debut novelist Jessica Moor and to Natasha Saunders who has experience of domestic abuse and of life in a refuge. What can fiction do to shed light on domestic abuse?
Presented by Jenni Murray
Produced by Jane Thurlow
Interviewed guest: Stella Creasy
Interviewed guest: Lesley Regan
Interviewed guest: Lauren Gunderson
Interviewed guest: Jessica Moor
Interviewed guest: Natasha Saunders
Interviewed guest: Rosemary Mallace
Interviewed guest: Janet Lord