Main content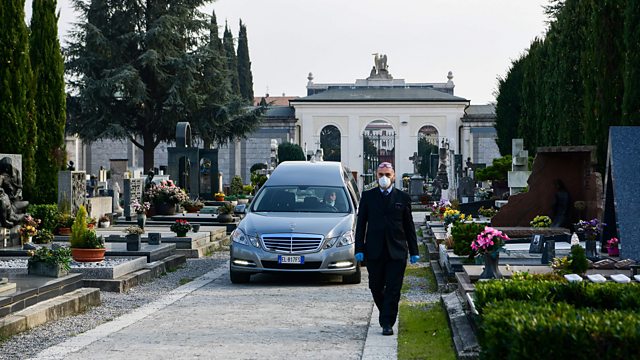 Italy's Invisible Enemy
Stories from America, Indonesia, Bulgaria and Italy stricken by the deadly coronavirus pandemic. Mark Lowen has covered the crisis from the outset and says it is a living hell.
Italy marked a grim milestone at the end of this week as its number of deaths from the coronavirus exceeded those in China. Yet most Italians are supportive of the country's struggling authorities says Mark Lowen who has covered the crisis from its outset.
Across the world ten of millions of people are having to adapt their way of life to avoid infection. Fergal Keane has spent decades reporting on conflicts and natural disasters across the globe. He reflects on what it means to be caught up in the universal war against a potentially fatal disease.
In New York all non-essential businesses have been ordered to close. For the army of low paid workers and small business owners in particular, this is an exceptionally difficult time says Laura Trevelyan.
Young men and women looking for love often turn to their phone and swipe through a gallery of faces. But the leaders of the Indonesia's anti-dating movement say casual relationships are expensive, get in the way of study, and go against religious teaching. Josephine Casserly met a pair of newly weds who have made not dating cool.
In these days of self-isolation and working from home, many turn to the comforting familiarity of favourite books – and memories of where we first encountered them. Forty years ago Kevin Connolly fell for a largely forgotten thriller. His love was rekindled by a recent trip to the Bulgarian capital, Sofia.