Main content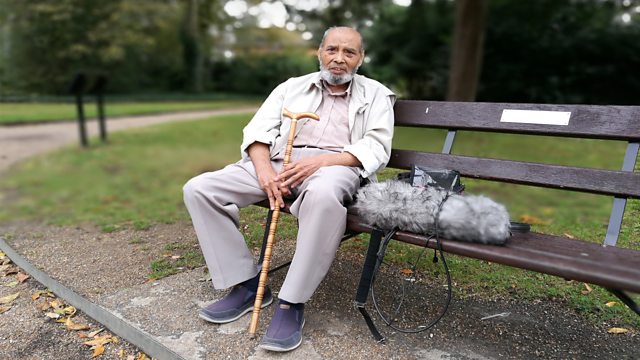 Ilford
Anna Scott-Brown sits on a bench in Ilford hearing stories of a diverse and yet cohesive borough, celebrating difference and resilience, complemented in a poem by Hussain Manawer.
Anna Scott-Brown hears more stories from the people who stop to sit beside her on benches around the country.
In this edition, she sits on a bench in Ilford. Throughout the programme, a specially commissioned work by the poet Hussain Manawer draws on the voices of those passing by – and sometimes pausing on – the bench beside Valentines Mansion in Valentines Park.
It creates a portrait of a diverse London borough built on farmland, and the constant flow of people arriving and moving on. From the first white middle class residents to the Jews and people of the Windrush generation, arrivals from Asia and latterly Somali - immigrants and refugees.
Memories from childhoods in the park, and ones that go back to the Partition of India and Pakistan, illustrate the power of place and belonging and some of the barriers to full integration.
We hear the story of an abusive marriage against the background of the murder of sex-worker Marianna Popper on Ilford Lane, and of a young woman who counts members of the drugs gangs as her "family", but who has escaped.
Rising crime is pushing some people out, and the bench is dedicated to Levi Miller who took his own life. But what we learn from Ilford is that, if the same energy that depresses you can be used for living life, life can be different.
Hidden lives are revealed and common threads recur as Anna's gentle but insistent, and sometimes extremely direct, questions elicit poignant and profound responses from those sitting on the bench.
An Overtone production for BBC Radio 4