Main content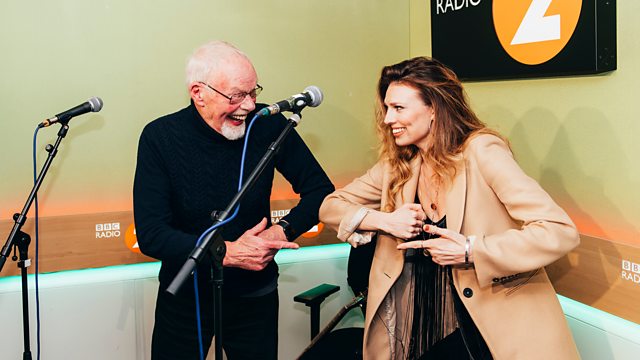 Radio 2's Country Festival
Bob Harris and Ben Earle host Radio 2's own special country music night. Playing live are The Shires, Twinnie, King Calaway, Kezia Gill, The Adelaides & Haley & Michaels
Bob Harris, Ben Earle & Bobbie Pryor host a very special country music night live from the Radio 2 studios. Performing live are The Shires, Twinnie, King Calaway, Kezia Gill, Haley & Michaels and The Adelaides.
Plus we have exclusive tracks from classic sessions with Eric Church, Luke Combs, Darius Rucker, Tanya Tucker, Charles Esten, Brett Young, Old Crow Medicine Show and the Cadillac Three.
Until its postponement due to the Covid-19 virus crisis, Radio 2 was due to be live from the Country 2 Country Festival at the O2 in London today. So, as country fans in the UK can't go to the festival, Radio 2 has decided to bring the festival to them, live from Studio 6C in Wogan House - C26C!
The line up is comprised of 6 acts that would have appeared at the original festival - the biggest country music gathering in Europe - complemented by exclusive BBC session tracks from the main stage headliners who can no longer appear.
Last on
Music Played
Kezia Gill

Another You (Live from the Radio 2 Country Festival 2020)

Kezia Gill

Whiskey Drinkin' Woman (Live from the Radio 2 Country Festival 2020)

Eric Church

Give Me Back My Hometown (The Country Show 10.04.14)

Eric Church

A Man Who Was Gonna Die Young (The Country Show 10.04.14)

Eric Church

Homeboy (The Country Show 23.02.12)

Eric Church

Sinners Like Me (The Country Show 23.02.12)

A Thousand Horses

Preachin' To The Choir (The Country Show 24.08.17)

A Thousand Horses

One Man Army (The Country Show 24.08.17)

Twinnie

Type Of Girl (Live from the Radio 2 Country Festival 2020)

Twinnie

Daddy Issues (Live from the Radio 2 Country Festival 2020)

Twinnie

Lie To Me (Live from the Radio 2 Country Festival 2020)

Twinnie

Better When I'm Drunk (Live from the Radio 2 Country Festival 2020)

Darius Rucker

Homegrown Honey (The Country Show 09.02.17)

Darius Rucker

So I Sang (The Country Show 09.02.17)

Darius Rucker

Radio (The Country Show 04.12.14)

Haley & Michaels

Drinking About You (Live from the Radio 2 Country Festival 2020)

Haley & Michaels

Giving It All (To You) (Live from the Radio 2 Country Festival 2020)

Haley & Michaels

Hail Mary (Live from the Radio 2 Country Festival 2020)

Tanya Tucker

Wheels of Laredo (The Country Show 05.03.20)

Tanya Tucker

Bring My Flowers Now (The Country Show 05.03.20)

The Adelaides

Good Love (Live from the Radio 2 Country Festival 2020)

The Adelaides

What Would Your Heart Say (Live from the Radio 2 Country Festival 2020)

The Adelaides

Sanctuary (Live from the Radio 2 Country Festival 2020)

Charles Esten

I Still Do (CMA Awards Highlights 14.11.19)

Brett Young

Sleep Without You (The Country Show 23.11.17)

King Calaway

Driver's Seat (Live from the Radio 2 Country Festival 2020)

King Calaway

Rivers (Live from the Radio 2 Country Festival 2020)

King Calaway

Will The Circle Be Unbroken (Live from the Radio 2 Country Festival 2020)

The Shires

Lightning Strikes (Live from the Radio 2 Country Festival 2020)

The Shires

About Last Night (Live from the Radio 2 Country Festival 2020)

The Shires

Good Years (Live from the Radio 2 Country Festival 2020)

The Shires

Nashville Grey Skies (Live from the Radio 2 Country Festival 2020)

The Shires

A Thousand Hallelujahs (Live from the Radio 2 Country Festival 2020)

The Shires

Tonight (Live from the Radio 2 Country Festival 2020)
Broadcast