Main content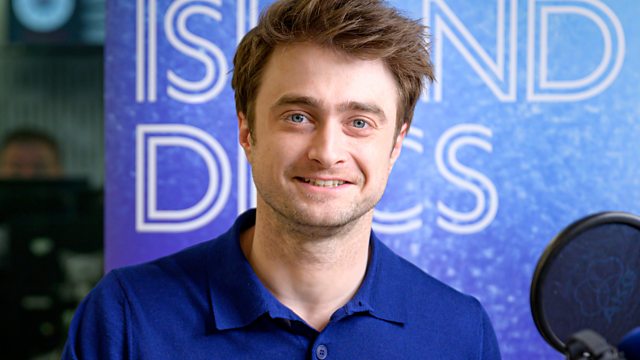 Daniel Radcliffe, actor
Daniel Radcliffe, actor, chooses the eight tracks, book and luxury he would want take if cast away to a desert island. With Lauren Laverne.
Daniel Radcliffe reached a global audience in the title role of the hugely successful Harry Potter films. He has also appeared on Broadway and in the West End, as well as in over a dozen films since the final part of the Harry Potter series was released in 2011.
Born in 1989, the only child of Alan and Marcia Radcliffe, Daniel made his acting debut aged 10 in a BBC adaptation of David Copperfield. The following year he was cast as Harry Potter, and he and his co-stars, Emma Watson and Rupert Grint, would spend ten years filming the series. Daniel made a point of taking other roles before it had finished, and he appeared on stage in Peter Shaffer's play Equus in 2007, a role which involved prolonged full frontal nudity.
Since then he has appeared on screen, on stage and on television, playing characters from the beat poet Allen Ginsberg to a cop going undercover as a neo-Nazi, and his recent films include Guns Akimbo and Escape from Pretoria. In the theatre, he is appearing in Samuel Beckett's Endgame in London.
He supports the Trevor Project which works to prevent suicides among LGBTQ youth and which Daniel first became aware of during the Broadway run of Equus in 2008. Daniel has been in a long-term relationship with fellow actor Erin Darke who he met on a film set in 2012.
Presenter: Lauren Laverne
Producer: Cathy Drysdale
Last on
The actor makes his desert island selections and talks to Lauren about them.
Music Played
Morecambe & Wise

Bring Me Sunshine

Classic Morecambe & Wise: Songs and Sketches.
EMI Records Limited.
26.

Tom Lehrer

We Will All Go Together When We Go

The Remains of Tom Lehrer.
Rhino.
1.

Pixies

Where Is My Mind?

Surfer Rosa & Come On Pilgrim.
Beggars Banquet Records Ltd.
7.

Grandaddy

He's Simple, He's Dumb, He's The Pilot

The Sophtware Slump.
Mercury Records Limited.
1.

The Hold Steady

Killer Parties

Almost Killed Me.
Full Time Hobby.
10.

Nick Cave & the Bad Seeds

Into My Arms

The Boatman's Call.
Mute Records Limited.
1.

Yo‐Yo Ma

Attaboy

Composer: Stuart Duncan. Composer: Edgar Meyer. Composer: Chris Thile. Performer: Yo‐Yo Ma. Performer: Chris Thile. Performer: Edgar Meyer. Performer: Stuart Duncan.

The Goat Rodeo Sessions.
Sony Classical.
1.
Broadcasts