Main content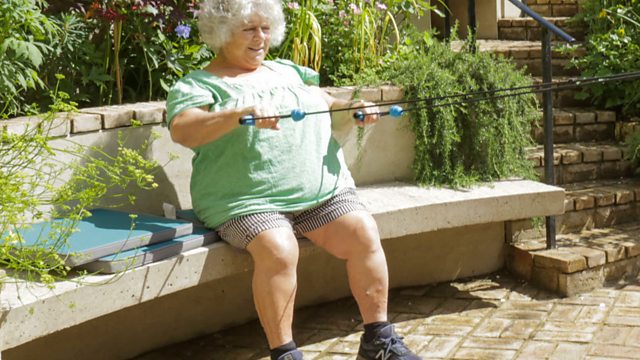 After a lifetime of worrying about her weight, 78-year-old actress Miriam Margolyes embarks on a journey to work out why the nation is getting ever fatter.
Miriam Margolyes loves her life but loathes her body. Given the choice, she would happily swap it for Claudia Winkleman's - but she knows that is never going to happen. In her words, Miriam has been fat ever since she can remember – it has overshadowed her life. Now aged 78, she knows time to do something about it is running out.
In this series, Miriam travels the country to discover why, despite so much information about healthy lifestyles, our nation is at its most overweight ever. She wants to understand what impact being obese has on people and how the rest of society views them. She begins in this episode by meeting people fighting back against their size – physically and psychologically.
She checks in to a bootcamp and meets 30-year-old Georgia, who has been struggling with serious binge eating since university. The camp is run along military lines with a calorie-restricted diet and five hours of enforced exercise per day. Georgia has lost seven stone and is getting back on track, but Miriam fears, away from the regimented life at boot camp, she might flounder in an outside world full of temptation.
Will is only 20 but already 28 stone. Now at university, he worries how he will be perceived if he can't join in with activities and 'fit in'. He has decided to do something about it, booking himself in for a brutal six-week intense weight-loss programme. It is a tough but worthwhile path he hopes will lead to acceptance.
Wanting acceptance is something Miriam understands. She has found ways to approach being overweight which mainly involve being loud and frank about her size. But the ridicule she faced for being fat has still left its mark. Laughing at people for being obese still seems to be an accepted form of prejudice, she muses, with people who are overweight seen as fair game. Miriam questions it further as she hears about the human experiences of struggle against obesity. She meets Liverpool University behavioural psychologist Dr Eric Robinson, who tests the psychological effects of being obese by having students wear a 'fat suit', and in another experiment's results, Miriam is shocked to learn how deeply embedded society's disdain for obese people really is.
Meeting Georgia again at her mother's seaside home, Miriam finds her well on the way to recovery. But there was a time when Georgia's mother really struggled supporting her daughter through depression and overeating, even fearing her daughter wouldn't see her 30th birthday. Now she is proud and relieved as Georgia continues to build her mental stamina and lose weight in a bid for happiness.
Perplexed and bewildered, Miriam turns to best mate Carol. She wants to know if losing weight is the simple route to a happier life. Straight-talking Carol has never known a 'slim Miriam' and says she wouldn't want to. Realising size is only one element of who we are, Miriam starts to wonder if maybe hating your body isn't the way forward. She embarks on a journey into the world of BoPo – the body positive movement. Being 'fat and happy' goes against everything Miriam ever thought possible – surely every fat person hates themselves and wants to be thinner like she does? And what about the health aspects? Step forward, plus-sized fashion blogger Bethany. She has no interest in diets, feeling bad about her body or not eating whatever she fancies whenever she wants. She tells Miriam being happy living her life 'fat' makes much more sense than yo-yo dieting and desperately trying (and failing) to fit someone else's idea of the perfect body. Her knockout blow lands as she points out that Miriam has hated her body all her life and it hasn't made her thin or happy, so where is the sense in that? It is an interesting point for Miriam to chew over as she heads to meet body confidence powerhouse Trina. Trina doesn't do 'slim.' Instead, she believes finding happiness in who you are, not what you or society expect you to look like, is the way forward. Cautiously sceptical, Miriam agrees to attend one of the UK's first plus-size dance classes with 25 big, proud women embracing the joys of twerking and eventually encouraging Miriam to do the same! It is a life-changing experience which makes Miriam realise tackling obesity is a complex problem with no one-size-fits-all solution, but that in the pursuit of happiness, maybe acceptance and embracing people of all shapes and sizes is a good thing.
More episodes
Previous
You are at the first episode
Music Played
Timings (where shown) are from the start of the programme in hours and minutes
00:51

Sean Paul

Can You Do The Work (feat. Ce'Cile)
Credits
| Role | Contributor |
| --- | --- |
| Presenter | Miriam Margolyes |
| Executive Producer | Paul Hamann |
| Executive Producer | Alicia Kerr |
| Composer | Wayne Roberts |
| Production Manager | Kath Shannon |
| Production Manager | Felicity Arkell |
| Series Producer | Simon Draper |
| Production Company | Wild Pictures |