Main content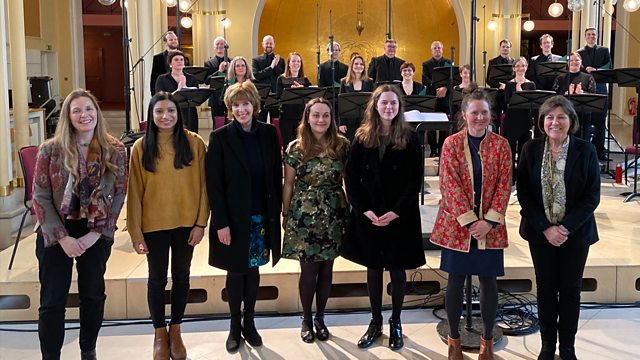 Seven Ages of Woman
BBC Radio 3's new commission for International Women's Day, performed by the BBC Singers, conducted by Grace Rossiter. Seven very different composers contribute to this new work.
To mark International Women's Day 2020, BBC Radio 3 has commissioned seven very different composers to write a movement each of an a cappella choral work entitled 'Seven Ages of Woman'. Each composer represents her own decade, from Helena Paish in her teens, to Rhian Samuel who gracefully brings the piece to its culmination. Featuring texts by beloved poet Charlotte Brontë, to Francophile Heather Dohollau, who was born in Wales but moved to France and died only seven years ago; from Deirdre Gribbin's son's striking poem about mortality in the form of an elephant graveyard, to Emily Hall's choice of Russian poet Marina Tsvetaeva's poem celebrating the unending life-force that flows through her veins. Each woman gives their individual take on where they are in their lives - right now as a woman in 2020 - and the resulting piece of music as a whole will take listeners on a journey through time of mind, body and soul. A reflection of female brilliance and resilience for the new decade. The composers are fearless in tackling issues they face as women head on, and you will hear them delve deep into the thoughts behind their choices during the programme.
In this programme you will hear each composer introduce their piece before a short music clip. We will then hear the work as a whole – for this groundbreaking commission deserves a second hearing.
Kerensa Briggs: Media Vita
Seven Ages of Woman: BBC Radio 3 commission, world premiere
1. Helena Paish: Life
2. Electra Perivolaris: Eternal Waking
3. Samantha Fernando: Have It All
4. Emily Hall: Veins
5. Deirdre Gribbin: Grieving Elephants
6. Cecilia McDowall: Photo 51
7. Rhian Samuel: The Shape of Trees
BBC Singers
Grace Rossiter (conductor)
Recorded at St Peter's Eaton Square, London on 27 February 2020
Featured in...
We broadcast more live and specially-recorded concerts and opera than any other station.