Main content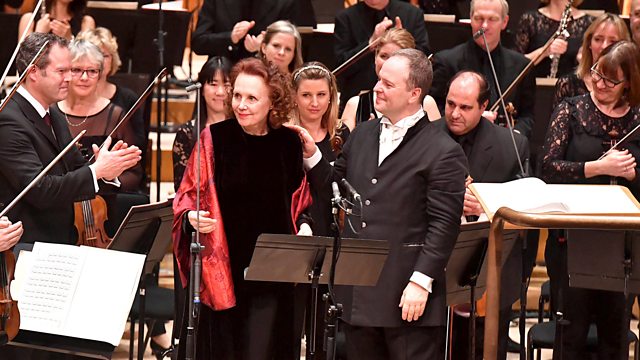 Women Composers Compilation
Michael Berkeley presents a special programme as part of Radio 3's celebration of women composers. With, among others, Hildegard of Bingen, Barbara Strozzi and Clara Schumann.
As part of Radio 3's celebration of female composers, Michael Berkeley draws together some of his guests who have championed works by women.
Turner Prize-winner Helen Cammock introduces the 17th-century Venetian composer Barbara Strozzi, and actor Greta Scacchi tells the story of her discovery of the 18th-century musician and composer Maria Cosway. There is music too by Hildegard of Bingen, the 12th-century writer, abbess and mystic, who is a role model for scientist Uta Frith; and a discussion of Clara Schumann and her complex relationship with husband Robert from biographer Lucasta Miller.
Architect Daniel Libeskind champions the work of the Finnish composer Kaija Saariaho, whose work for him conjures up the glittering beauty of modern glass buildings. And Michael Berkeley reveals the answer to the question he's frequently asked about this programme: which composer gets chosen most often? And the answer is that, apart from Bach, probably the most popular choice of all at the moment – from men, women, young, old, artists, scientists, writers – is Nina Simone.
A Loftus production for BBC Radio 3
Produced by Elizabeth Burke
Last on
Music Played
Barbara Strozzi

Che si puo fare

Performer: Leonardo García Alarcón. Performer: Mariana Flores. Ensemble: Cappella Mediterranea.

Maria Cosway

Mormora

Performer: Jan Walters. Singer: Mary Nichols.

Leonora Duarte

Sinfonia de decimi toni

Ensemble: Transports Publics. Conductor: Thomas Baeté.

Hildegard von Bingen

O Jerusalem

Ensemble: Gothic Voices. Conductor: Christopher Page. Singer: Emma Kirkby.

Clara Schumann

Piano Trio in G minor, Op.17 (1st mvt: Andante)

Performer: Antje Weithaas. Performer: Tanja Tetzlaff. Performer: Gunilla Süssmann.

Clara Schumann

Liebst du um Schonheit, Op.12 no.2

Performer: Vladimir Ashkenazy. Singer: Barbara Bonney.

Germaine Tillon

Der Verfugbar aux Enfers (excerpt)

Ensemble: Ensemble. Director: Stephane Petitjean.

Kaija Saariaho

... a la fumee

Performer: Petri Alanko. Performer: Anssi Karttunen. Orchestra: Los Angeles Philharmonic. Conductor: Esa‐Pekka Salonen.

Caroline Shaw

Partita (Allemande)

Ensemble: Roomful of Teeth.

Pauline Oliveros

Lear

Performer: Pauline Oliveros. Performer: Stuart Dempster. Performer: Panaiotis.

Nina Simone

Mississippi Goddam

Performer: Nina Simone.
Broadcast