Main content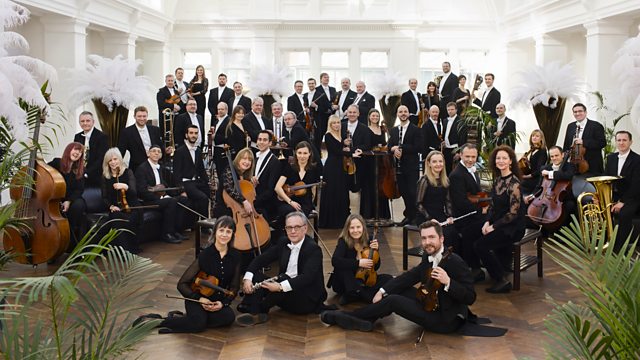 Ulster Orchestra at Ulster Hall (2/4)
From the Ulster Hall in Belfast, soprano Katherine Broderick joins the Ulster Orchestra in Wagner's Wesendonck Lieder alongside Elgar's Symphony No 2 and music by Howard Skempton.
Tom McKinney continues this week of performances by The Ulster Orchestra with a concert recorded last October in Belfast.
Entitled "Songs of Love and Loss", this concert under the baton of Principal Guest Conductor Jac van Steen. It begins with Howard Skempton's first major work for orchestra, Lento - a serene, hypnotic and enigmatically simple piece based on a number of chorales.
The orchestra is then joined by soprano Katherine Broderick for a performance of Wagner's five "Wesendonck Lieder".. Composed in 1857 for the wife of wealthy silk merchant Otto Wesendonck, with whom Wagner embarked on a tempestuous and destructive affair. The literary and soulful Mathilde Wesendonck provided the texts for these songs, while the music shows Wagner at his most vulnerable, oscillating between exuberant euphoria and delusional distress.
Elgar's second symphony was also written in a maelstrom of emotion. There was his relationship with his muse at the time, Alice Stuart-Wortley, to whom he wrote that he had "shewn my soul" in this music and the death of several close friends as well as King Edward VII, to whom the piece was dedicated. The resulting symphony demonstrates Elgar's absolute mastery of orchestral colour as it combines his private dreams and doubts in a vast and beautiful work.
The afternoon continues with a recording of The Ulster Orchestra joined by former Radio 3 New Generation Artist Annelien van Wauwe in Mozart's Clarinet Concerto. It's followed by a work from Northern Irish composer Deirdre Gribbin - her 2004 violin concerto "Venus Blazing", performed by soloist Lana Trotovsek under conductor David Brophy.
2.00pm
Howard Skempton: Lento for orchestra
Wagner orch. Felix Mottl: Wesendonck Lieder
Elgar Symphony No.2 in E flat, Op.63
Katherine Broderick, soprano
Jac van Steen, conductor
3.30pm
Mozart: Clarinet Concerto in A major, K.622
Annelien van Wauwe (basset clarinet)
Jac van Steen (conductor)
4.00pm
Deirdre Gribbin: Venus Blazing
Lana Trotovsek (violin)
David Brophy (conductor)
Last on

Broadcast