Main content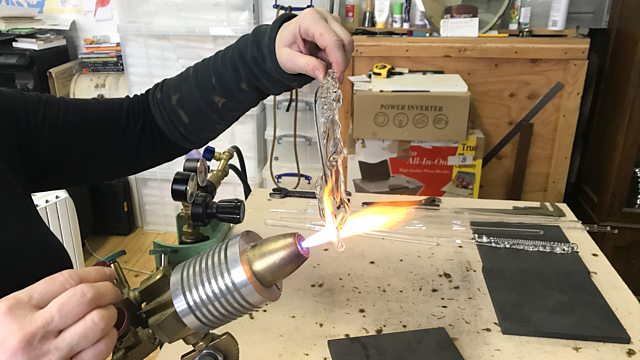 A combination of slow radio, artisanal craft and poignant personal stories, getting under the skin of practitioners to learn why they've decided to practise rare and unusual crafts
We have become divorced from physicality. Technology detaches us from touch and provenance. This, in part, has contributed to the boom in artisanal crafts. It's a call back to more tactile experiences. We're learning to craft, to forage, to paint, to build; gravitating towards skills which can replace some of the sensory connections from which we've disengaged. We want to literally get our hands dirty!
Living National Treasures seeks to represent this societal shift. This series is about celebrating existing ability and drawing attention to our own Living National Treasures.
Carrie Fertig is a glass flame worker who works in a big airy studio in an old lemonade factory in Leith, Edinburgh. Carrie is known for making huge flame glass structures and glass musical instruments that can be played. In all of her work she hopes to make people think and feel. She says the transparency of glass means we can always see what it holds and she uses her work to help people explore what emotions they are holding onto.
While the Living National Treasure tradition began in Japan - where they also commend buildings and monuments as 'National Treasures' - the celebratory trend has now been adopted by France, Thailand, South Korea and Romania. Living National Treasures are defined as people who possess a high degree of knowledge and skill in a culturally significant craft.
Living National Treasures is a combination of slow radio, artisanal craft and poignant personal stories. We get under the skin of practitioners, learning why they've chosen rare and unusual crafts.
Produced by Kate Bissell
Last on

Broadcasts